Hi, I'm Atlas
Status: adopted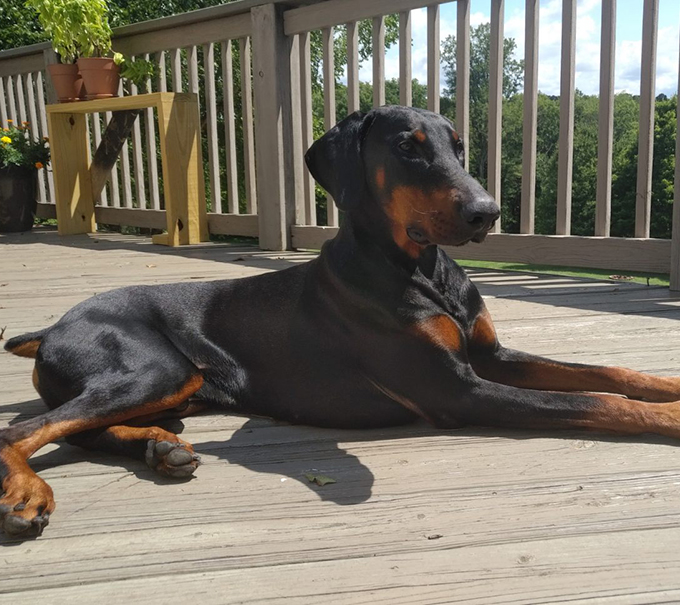 About Atlas
Hi, I'm Atlas! I am a one and a half year-old male who loves attention. I'm about 75 pounds and will get a little bigger.  I'm young, so I am still on a very consistent schedule for going outside – I would consider myself housebroken. I haven't had a lot of obedience training, but I am working very hard on my basic obedience, and am doing really well with 'sit' and 'stay'. I am also doing really well with walking on a leash without tugging or pulling, but I haven't completely learned 'heel" yet.
I also like to steal shoes or slippers sometimes, so you might need to help me learn that that's not okay. I sometimes sleep in my crate, but I will whimper and bark before I settle down for the night. I love meeting new people, but sometimes I get too excited and try to jump on them, but I am doing really well learning not to jump. I might overwhelm small kids with my size, but I just want to be best friends with everyone.
I love to run and play outside, sometimes when I go outside I have a ton of energy – I will need a fenced yard that I can explore safely, and I might need to be on a lead a lot of the time. Outside, I like to play fetch with my rubber ball, take naps in the sun on the patio and deck, or take naps in the shady grass.
It might take me a couple days to settle into my new home, but once I do I will be well-behaved inside and will follow you around like your shadow! I love to fall asleep next to you, and will ask for lots of petting by tapping you with my paw or putting my head in your lap. I haven't had a lot of time to spend with other dogs or animals, so I may be best as an only pet. I've only had a few short trips in the car, and I was very calm if someone was with me.
This is My Story
Atlas found himself needing DAR&E to help him find his new Fur-ever home.
---
DAR&E only places within the Maryland, DC, West Virginia and Virginia area. Please do no apply to adopt if you live outside of those areas. Please visit our Adoption Process page for additional information on adopting one of our DAR&E Dobermans & an online application!
Our dogs are spayed/neutered, up-to-date on shots and microchipped.
How You Can Help Atlas
A Tax deductible sponsorship gifts of any amount are welcome in support of our orphans.
DAR&E Wear
$15
Step 1 on the road to a forever home is a collar and tag. DAR&E dogs always have a home with us. Support a dog on its first steps by sponsoring the purchase of their collar and tag.
SPONSORS

All sponsorship donations are tax deductible and will be used to care for and for medical treatment for dogs in DAR&E's care. You can sponsor multiple dogs.