Hi, I'm Bam Bam
Status: available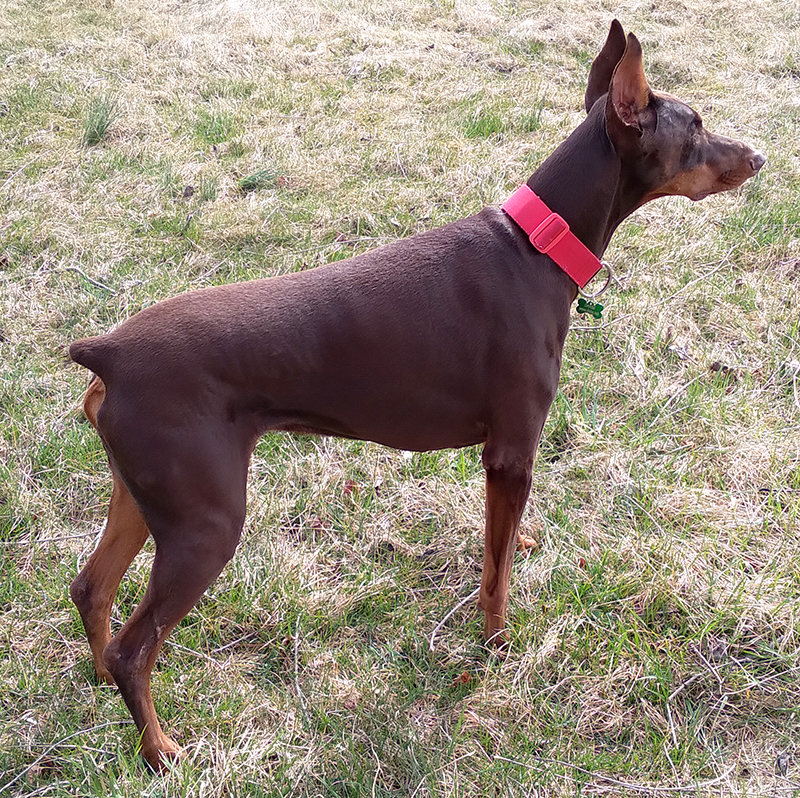 About Bam Bam
BamBam is a gentle and loving 7.5 yr old Red/Rust Doberman.  He is cropped and docked.  BamBam is not a big boy but weighs in at about 66 lbs. 
He will get along with most dogs but usually ignores them to be with his human companion.  He would do great as an only dog, but also will accept other dogs if they are in the house.  BamBam is good with people and a velcro boy once he bonds with you. 
He has been in his foster home for about 10 days and he is just starting to feel comfortable.  It will take time for him to adjust to a new home.  He rides well in the car.  BamBam does have anxiety when he is put into new situations, new people, vet visits or anything that is not in his normal routine. At times when BamBam feels overwhelmed, he will jump up and sometimes bark, so his new owner will need to recognize he isn't being bad he's just overwhelmed. 
BamBam loves his toys and will chase a ball around the yard for as long as you will throw it.  BamBam knows his basic commands.  An owner who has plenty of time to spend with BamBam and will take care of him and make him feel secure is what he is looking for in a forever home. 
BamBam has enjoyed running around the back yard in his foster home and chasing balls.  He loves his balls.  A good sized yard with a fence would be ideal for this wonderful guy.
This is My Story
---
DAR&E only places within the Maryland, DC, West Virginia and Virginia area. Please do no apply to adopt if you live outside of those areas. Please visit our Adoption Process page for additional information on adopting one of our DAR&E Dobermans & an online application!
Our dogs are spayed/neutered, up-to-date on shots and microchipped.
How You Can Help Bam Bam
A Tax deductible sponsorship gifts of any amount are welcome in support of our orphans.
DAR&E Wear
$15
Step 1 on the road to a forever home is a collar and tag. DAR&E dogs always have a home with us. Support a dog on its first steps by sponsoring the purchase of their collar and tag.
SPONSORS

All sponsorship donations are tax deductible and will be used to care for and for medical treatment for dogs in DAR&E's care. You can sponsor multiple dogs.