Hi, I'm Cain
Status: hospice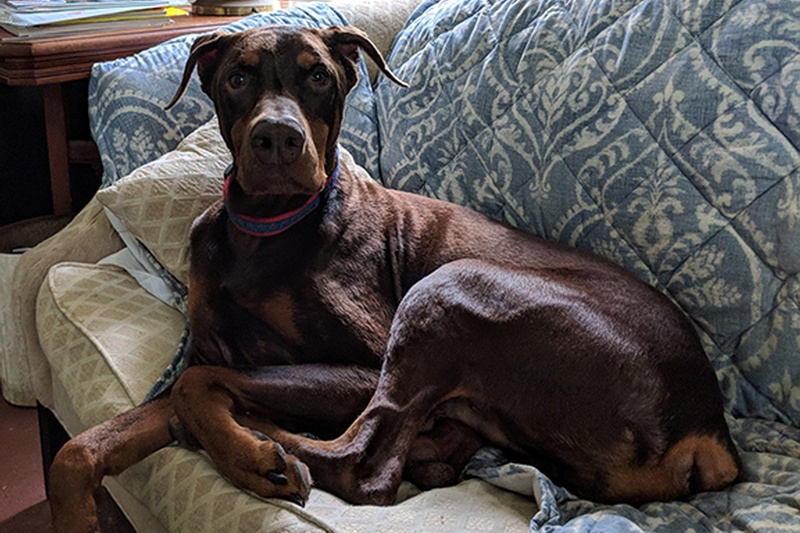 2/22/19 ~ His cancer has not returned and he is doing well!
About Cain
Cain was surrendered to a shelter at the age of 7 years old. Unfortunately, he had some masses. These were found to be malignant spindle-cell tumor. They have been removed. It is unknown when or if the tumor will come back. This super-duper sweet and friendly pup will be living in hospice care with DAR&E.
This is My Story
Cain was surrendered to a shelter at the age of 7 years old.
---
DAR&E only places within the Maryland, Virginia, Washington DC, Delaware, and in portions of both eastern West Virginia and southern Pennsylvania. Please do no apply to adopt if you live outside of those areas. Please visit our Adoption Process page for additional information on adopting one of our DAR&E Dobermans & an online application!
Our dogs are spayed/neutered, up-to-date on shots and microchipped.
How You Can Help Cain
A Tax deductible sponsorship gifts of any amount are welcome in support of our orphans.
DAR&E Wear
$15
Step 1 on the road to a forever home is a collar and tag. DAR&E dogs always have a home with us. Support a dog on its first steps by sponsoring the purchase of their collar and tag.
SPONSORS

All sponsorship donations are tax deductible and will be used to care for and for medical treatment for dogs in DAR&E's care. You can sponsor multiple dogs.