Hi, I'm Knox
Status: available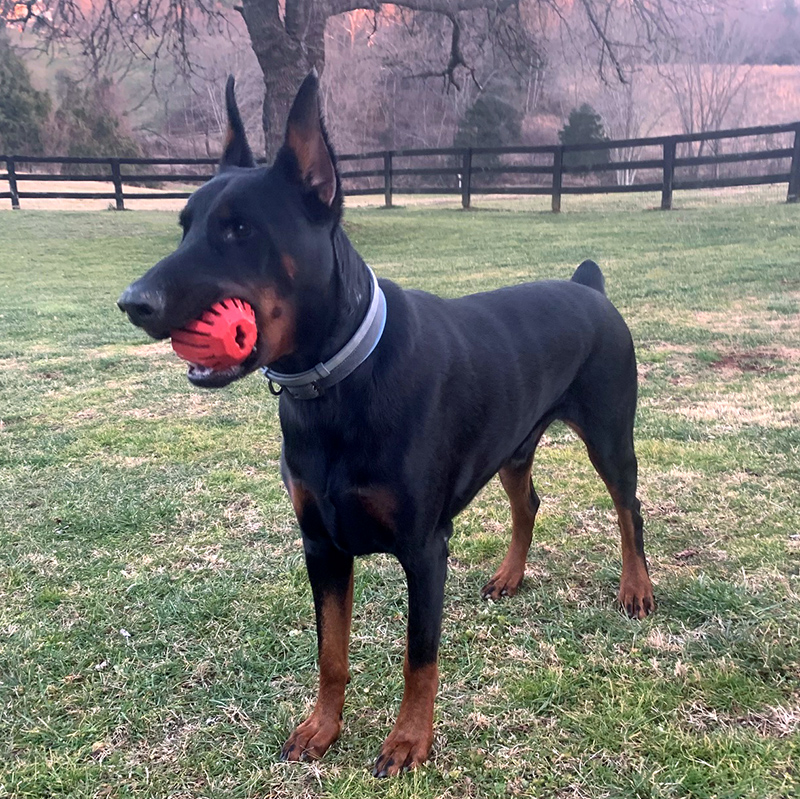 About Knox
Knox is 2 1/2 year old black/rust, cropped and docked male Doberman. His birthday is 8/29/2018.  Knox's darker face and stockier build is typical of European bloodline Dobermans.  Knox came to us quite overweight so he has been working on slimming down. We are starting to see his waistline appear! I can't wait to see how gorgeous he going to be after he looses another 10 lbs. A good weight for Knox will be around 80-85 lbs. 
Knox enjoys being with his people and chewing on nylabones and natural bones when inside. When outside, Knox will play fetch occasionally but usually prefers chasing the birds out of the hedge or investigating sounds he hears. And of course he loves his foo
d. Knox should have a fenced yard so he can get daily exercise running around and playing ball/chasing birds.
Knox instinctively understands he is supposed to be alert and protective of his home and family. He will bark at strange noises and at strangers at first but is friendly once he has meet them. Knox can look and act intimidating but in reality he is just a big goofy baby.
Knox hasn't had much proper guidance because he has spent so much time being boarded at a pet resort while his owners travelled for work. Knox was a favorite with the staff at the resort. He enjoyed regular grooming and was good playing with the other medium and large dogs. I believe the smaller dogs had their own play group.
Even though he is over 2, Knox still seems very puppy like. His is easily distracted so he will require an adopter who will be diligent in providing him with consistent, humane training.  Knox is typically alert while riding in the car but isn't problematic. He isn't a fan of crates but respects baby gates. 
Knox is a very sweet boy who will excel in and welcome an environment where he has clear boundaries and structure. As a working breed he needs plenty of exercise and mental stimulation.  Knox is looking for someone who will have plenty of time to spend with him. An active person who hikes a lot would be ideal for Knox. If you have previous experience owning a doberman, preferably a male doberman, email me so we can talk about our big, lovable Knox.
This is My Story
---
DAR&E only places within the Maryland, DC, West Virginia and Virginia area. Please do no apply to adopt if you live outside of those areas. Please visit our Adoption Process page for additional information on adopting one of our DAR&E Dobermans & an online application!
Our dogs are spayed/neutered, up-to-date on shots and microchipped.
How You Can Help Knox
A Tax deductible sponsorship gifts of any amount are welcome in support of our orphans.
DAR&E Wear
$15
Step 1 on the road to a forever home is a collar and tag. DAR&E dogs always have a home with us. Support a dog on its first steps by sponsoring the purchase of their collar and tag.
SPONSORS

All sponsorship donations are tax deductible and will be used to care for and for medical treatment for dogs in DAR&E's care. You can sponsor multiple dogs.