Hi, I'm Toothless
Status: available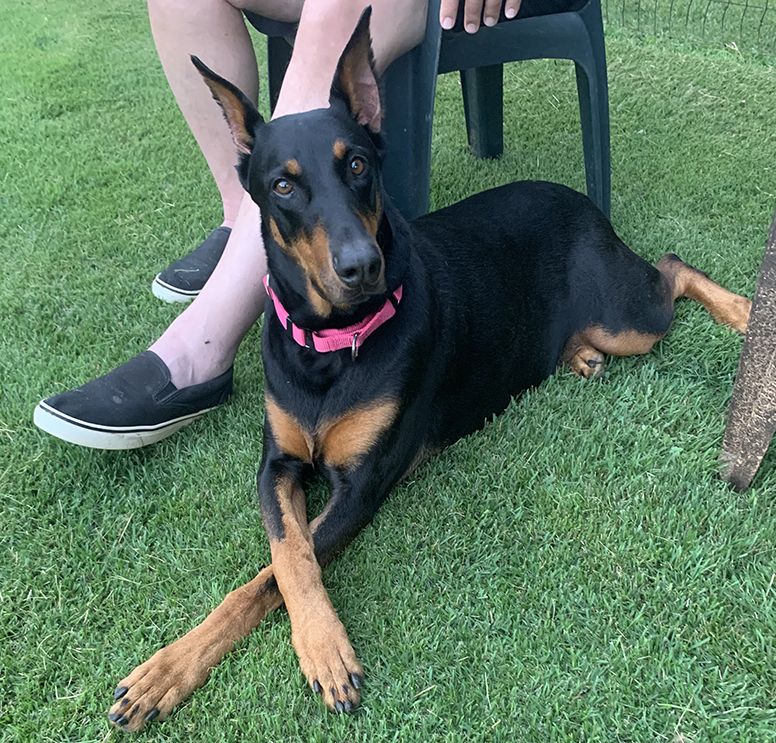 About Toothless
Hello! I go by the nickname Toothless. No worries though, as you can see from my pictures, I have a mouthful of beautiful, healthy teeth. You see, my family was a fan of the "How to Train a Dragon" movies and thought I resembled the super cute dragon named Toothless. I know.  I know. Toothless in the movie is a boy and I am a girl but I am not picky about what you call me as long as you call me for dinner. Speaking of which, I guess my previous family called me for dinner too often as I am told that I need to drop 10 lbs to be at my proper weight. I don't like being on a diet but my humans tell me I will be even more stunning than I already am once I get down to a svelte 72 to 75 lbs. People do tell me that I am beautiful. I am black/tan with cropped ears that my foster mom says fits my head well…what ever that means! My tail is short and I have a lovely full coat of fur. I had my 6th birthday in May. I know to go outside to do my business and I don't get into stuff in the house. I have a crate that I sleep in sometimes but the door is always open. I am very trustworthy in the house. I enjoy car rides.  My foster mom says I need a fenced yard because I take a long time to find the "right spot". Hey! A girl needs her privacy when she attends to certain things. I can't imagine "going" while my human is a few feet away, waiting, maybe even watching! How embarrassing!
I am looking for a home where I will be the center of attention. You know, like someone's soulmate. I was pretty scared when my Dad and mom gave me to this rescue lady that I didn't know. I just wanted them to come back to get me but after a while I realized they weren't coming back. I didn't understand what was happening to me! My foster mom let me sulk for a few days since I was scared and grouchy. She could tell that I was a nice dog and that I would want to be friends eventually. She was right. I realized that my foster mom and foster home wasn't so bad and my foster mom says it will be even better when I get my forever (this time!) home. So I am looking! Are you? I have good house manners and am not overly vocal. I can look scary but I am very loving once I get to know a person. I was with my first family since I was a baby so I will take a little time to feel comfortable with my new person. My foster mom says it comes from my breeding since I am supposed to make sure people are ok before I trust them with my heart. She said people that really understand dobies know how sensitive we are. Since I am suspicious of strangers, a quiet home where there aren't new people coming and going a lot would be great. It's tiring to feel like I have to be in protect mode all the time. I just want to love and be loved. That's my dream home! So, if you understand Dobermans and have the patience to let me get comfortable with you, you will find that I have so much love to give! Contact DAR&E today. Thanks for reading my story!  Love, Toothless.
This is My Story
Toothless ended up needing DAR&E to find her a new home.
---
DAR&E only places within the Maryland, DC, West Virginia and Virginia area. Please do no apply to adopt if you live outside of those areas. Please visit our Adoption Process page for additional information on adopting one of our DAR&E Dobermans & an online application!
Our dogs are spayed/neutered, up-to-date on shots and microchipped.
How You Can Help Toothless
A Tax deductible sponsorship gifts of any amount are welcome in support of our orphans.
DAR&E Wear
$15
Step 1 on the road to a forever home is a collar and tag. DAR&E dogs always have a home with us. Support a dog on its first steps by sponsoring the purchase of their collar and tag.
SPONSORS

All sponsorship donations are tax deductible and will be used to care for and for medical treatment for dogs in DAR&E's care. You can sponsor multiple dogs.