Hi, I'm Beasley
Status: adopted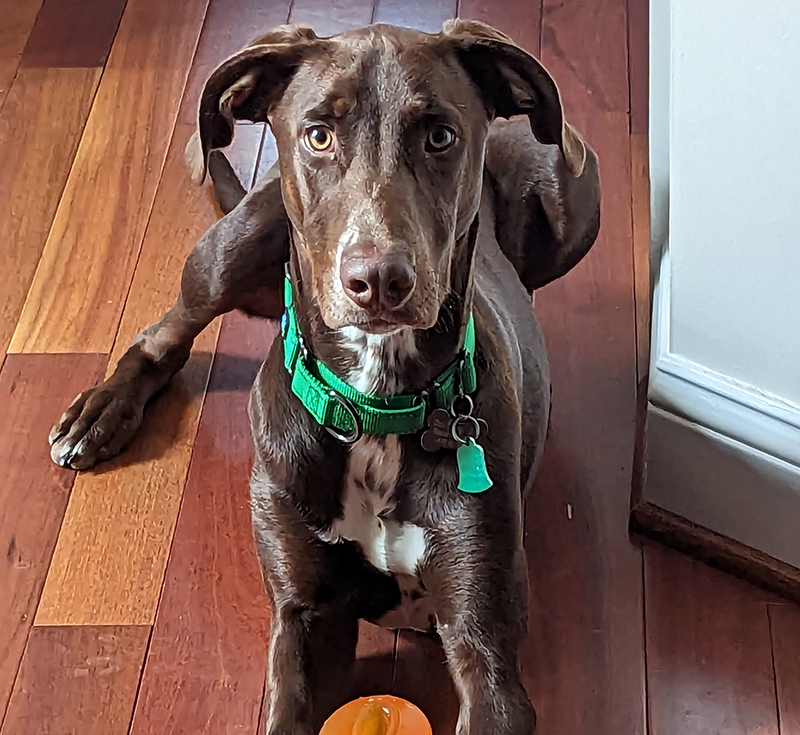 About Beasley
Meet Beasley, a 7 month old 50 pound male puppy with natural ears and tail. His mother is a red Doberman and his father is a Dalmation. He has a unique white stripe and spots on his chest, but he mostly takes after his dobie mother with his red coloring. 
Beasley is very sweet. He loves to be around people and loves to play with toys. Outside, he enjoys running around in our yard. He also loves to play with his people inside and give them kisses. Once he's tired, you'll find him curled up, napping on the couch.
Beasley has been walking well with an easy walk harness. Due to Beasley's age, a fully fenced in yard is required, an invisible fence is not ok. (All dogs under 1 require a home with a fully fenced yard.)
Beasley did very well at the vet and he did well when we gave him a bath at home. Beasley adjusts well to a routine. When he comes in from outside, he lets us wipe his paws. At night, it only takes him a few minutes to settle down in the crate when it is time for bed. However, if it's not bedtime, he does not like to be in the crate if you are home and he can hear you walking around. 
He is still very much a puppy and his forever home will need to continue to work on his training, including reminding him not to jump on people when he first meets them and not to counter surf. He is very smart but is still learning basic commands. He knows "sit" and with a treat incentive he can also do "paw" and "lay down".
Beasley will do best in a house where someone is home most of the day to let him outside frequently and give him lots of exercise. He lets you know he needs to go outside by whining or tapping on the door. He will probably do best in a home without cats, small dogs, or small children as he doesn't realize that he's a big puppy that plays a little rough sometimes. He seems to be dog friendly but may bark when meeting them for the first time. He would also be fine as an only dog.
Beasley is the perfect addition to an active family who wants a playful puppy companion.
This is My Story
Beasley found himself needing DAR&E to find him a forever home.
---
DAR&E only places within the Maryland, Virginia, Washington DC, Delaware, and in portions of both eastern West Virginia and southern Pennsylvania. Please do no apply to adopt if you live outside of those areas. Please visit our Adoption Process page for additional information on adopting one of our DAR&E Dobermans & an online application!
Our dogs are spayed/neutered, up-to-date on shots and microchipped.
How You Can Help Beasley
A Tax deductible sponsorship gifts of any amount are welcome in support of our orphans.
DAR&E Wear
$15
Step 1 on the road to a forever home is a collar and tag. DAR&E dogs always have a home with us. Support a dog on its first steps by sponsoring the purchase of their collar and tag.
SPONSORS

All sponsorship donations are tax deductible and will be used to care for and for medical treatment for dogs in DAR&E's care. You can sponsor multiple dogs.