Donate to DAR&E
Thank you for considering a monetary gift to DAR&E. DAR&E is an all-volunteer (nobody in the organization gets a paycheck) non-profit 501(c)(3) charity meaning your donation is tax deductible. We operate solely on donations and our own fundraising activities.
While we do charge an adoption fee, that fee is kept as low as possible to encourage adoptions. Adoption fees typically cover less than 50% of our annual expenses. Generous cash donations from supporters like you are necessary for us to continue the work of saving Dobermans.
If you'd like to make a tax deductible monetary donation:
---
Employee Charitable Contributions
Does your employer match your charitable contributions? Have your donation make twice the difference for our dogs. Please ask your employer for a form to send to DAR&E so your gift can be matched!
---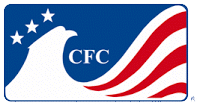 Are you a Federal Employee? Please consider helping our dogs through the Combined Federal Campaign or CFC!
Our charity title is: Doberman, Assistance, Rescue & Education, Inc. Our charity ID#: 65221
---
DAR&E Wish List
DAR&E also welcomes donations from our "Wish List". If you can help with any of these items, please contact us at darefeedback@yahoo.com. Please keep in mind, Dobermans are medium to large dogs.
Postage Stamps
Kong Toys
Dog Treats
Dog Beds
Dog Toys
Bully Sticks
Dog Crates
Buster Cubes
Nylabones
Six Foot Leashes
Knotted Rope Toys
X-pens
Collars (16″ – 22″, martingale type, quick-release)
PetSmart & PetCo Gift Certificates