Hi, I'm Daisy
Status: adopted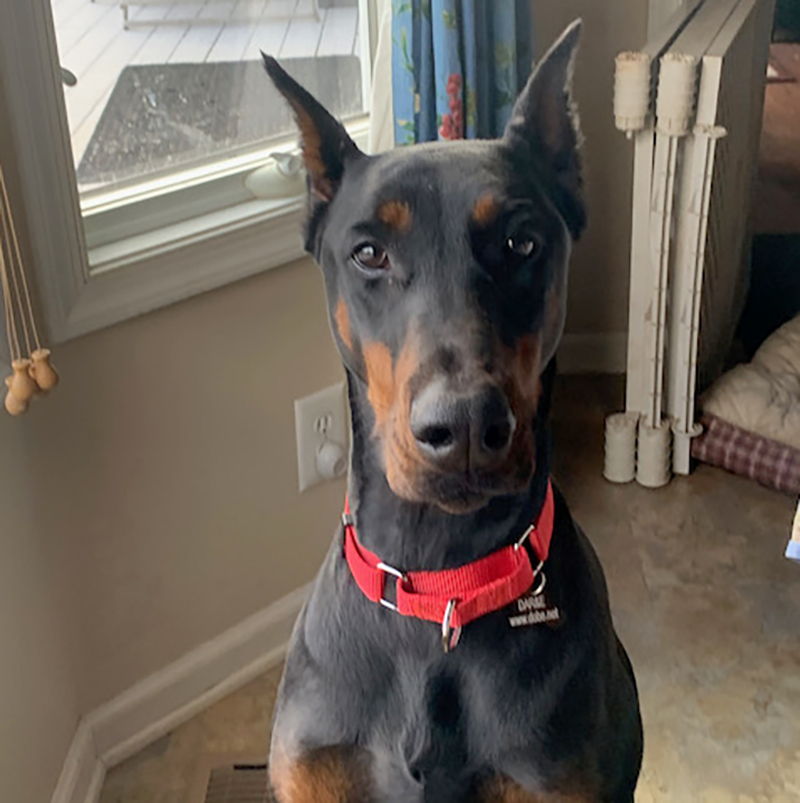 About Daisy
Meet Daisy! Daisy is a very sweet black, cropped and docked female Doberman that weighs about 75lbs. Daisy is a tall beauty with enchanting dark eyes. She is 2 years and 9 months old. Her birthday is 5/28/2018.  
Daisy is a very sweet natured, affectionate girl that just wants to be by your side. Daisy was well cared for and loved but her previous owner didn't have time for her. Daisy loves her people and is hoping for a new home where there is lots of time for her. 
She loved the snow we had recently. Check out Daisy having fun in the snow:
Daisy doesn't pay much attention to bones or nylabones, she prefers balls and other rubber toys to play with so we limit her to Kongs and other very durable toys like Planet Dog balls.

Daisy is house trained and rides well in the car. She has had formal training and knows basic commands. We have a crate for her to sleep in since she seems to be used to a crate but we always leave the door open. We sequester her in a dog proof area when we are away and at night.  
Daisy can be a little shy when first meeting people but she is happy to be your friend once she realizes you want to be her friend. Daisy's goal in life is to love and be loved. She will be so happy to have someone she can devout herself to.
If you are looking for an affectionate, playful, smart companion contact DAR&E to find out more about our sweet Daisy.  She is waiting to be someone's Doberman princess! 
This is My Story
Daisy was well cared for and loved but her previous owner didn't have time for her. They asked DAR&E to help her find a new home.
---
DAR&E only places within the Maryland, Virginia, Washington DC, Delaware, and in portions of both eastern West Virginia and southern Pennsylvania. Please do no apply to adopt if you live outside of those areas. Please visit our Adoption Process page for additional information on adopting one of our DAR&E Dobermans & an online application!
Our dogs are spayed/neutered, up-to-date on shots and microchipped.
How You Can Help Daisy
A Tax deductible sponsorship gifts of any amount are welcome in support of our orphans.
DAR&E Wear
$15
Step 1 on the road to a forever home is a collar and tag. DAR&E dogs always have a home with us. Support a dog on its first steps by sponsoring the purchase of their collar and tag.
SPONSORS

All sponsorship donations are tax deductible and will be used to care for and for medical treatment for dogs in DAR&E's care. You can sponsor multiple dogs.