Hi, I'm Acadia
Status: available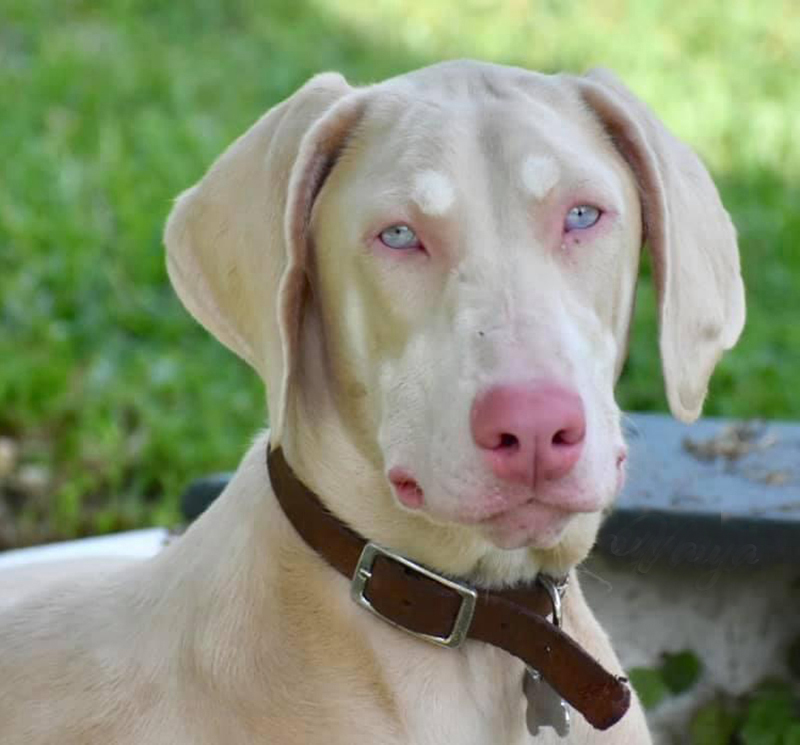 About Acadia
Meet Acadia or Cadi. Acadia is a loving 4-year-old cream with white markings Dobergirl. She instantly grabs attention while on walks. Cadi has a great medium energy level, some playtime with her sister, some romping around with a squeaker toy, and walks in the neighborhood. She has a great cadence while in a steady jog and is up for the adventure. She does not pull or go off-pace with sensory overload (which can happen on our slower-placed walks). She is good on the leash without much pulling unless she sees a squirrel or other fun things to chase. Being a Dobergirl, she is truly in tune with her environment and alert to scents and sounds. Cadi greets new people with sniffs, a wagging stub, and excitement. She will watch with curiosity cars, cyclists, motorcycles, scooters, and people from afar, etc.  She can often give off a low-level "wooooh" as she sees another dog on a walk, with friendly curiosity and interest. 
Being that true Velcro pup, Cadi will follow you around the house into every room. She will be your loving shadow any day! If this leads into the kitchen, an eye will have to be kept on Cadi, as she can counter-surf if there is something appealing. Acadia is house-trained and has very good house manners. She stays in a crate while her human foster family is not home, vocalizing at first for a few minutes but then settling down nicely. While indoors, she will play with her toys along with seeking attention from her loved ones. Very treat-motivated and always welcoming snacks! Her favorite toys are squeakers. The funniest thing is seeing Cadi rooting through the toy bin to see what she'd like to play with next. Cadi also likes to get up close, sniff, and gently kiss your cheek when she is ready for snuggle time coupled with getting petted, and getting butt scratches and ear rubs.
Acadia is good with other dogs of comparable size, personality, and energy level. Cadi is more of an alpha female and would do better in a home without another alpha female. No cats for Cadi. 
As a reminder, Cadi is cream-colored with white markings. She has beautiful blue eyes and a cute pink nose. Much like fair-complected people, that cute pink nose may be susceptible to sunburn so their adopter should have doggie sunscreen (not people sunscreen) handy if outside for an extended period of time. For example LUCKY PUP SPF40 Lotion Dog Cream Sunscreen, 2.3-oz bottle – Chewy.com
Cadi looks forward to meeting you and joining your family! Cadi is in Maryland.
This is My Story
Acadia found herself needing DAR&E to find her a new fur-ever homes.
---
DAR&E only places within the Maryland, Virginia, Washington DC, Delaware, and in portions of both eastern West Virginia and southern Pennsylvania. Please do no apply to adopt if you live outside of those areas. Please visit our Adoption Process page for additional information on adopting one of our DAR&E Dobermans & an online application!
Our dogs are spayed/neutered, up-to-date on shots and microchipped.
How You Can Help Acadia
A Tax deductible sponsorship gifts of any amount are welcome in support of our orphans.
DAR&E Wear
$15
Step 1 on the road to a forever home is a collar and tag. DAR&E dogs always have a home with us. Support a dog on its first steps by sponsoring the purchase of their collar and tag.
SPONSORS

All sponsorship donations are tax deductible and will be used to care for and for medical treatment for dogs in DAR&E's care. You can sponsor multiple dogs.