Hi, I'm Amiri
Status: adopted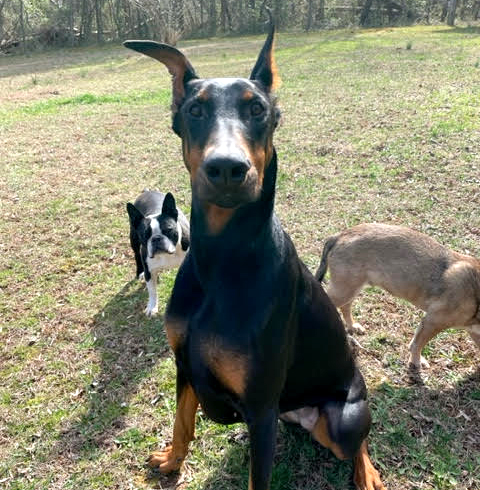 About Amiri
Amiri is a beautiful black/rust, 2 year old, docked and cropped female Dobe which is about average size.  She is a smart cookie and so willing to please.  She's extremely loving and affectionate – if you let her she will be in your lap on the couch –  and in true Dobe fashion she will follow you everywhere.
Amiri is crate trained and house trained. She knows sit and is really obedient. She learns routines quickly and by the second day of being in her foster home had already figured out to go to her area to eat and also at bed time.
Amiri is very alert and has a big bark. You will know when she has seen something she thinks you need to be aware of. She's not an excessive barker, just when there is a reason.  Amiri hasn't had a super stable upbringing and that has caused her to be a bit insecure. She really likes people, but she needs a minute to get to know you before she'll come right up to you. Same with other dogs. She's fostered with a bunch of dogs, but she will need slower introductions to a new one.   Then she's all about the play. She's not a pushover though so laid-back dog buddies are best. 
Energy-level wise, she's got young dog energy, but it's not excessive. Once she's run off her energy she's happy to settle. Exercise, as always, is the key. 
 Amiri is a great Dobie.
She's going to make an amazing addition to a loving family.  
This is My Story
Amiri found herself needing DAR&E to find her a forever home.
---
DAR&E only places within the Maryland, Virginia, Washington DC, Delaware, and in portions of both eastern West Virginia and southern Pennsylvania. Please do no apply to adopt if you live outside of those areas. Please visit our Adoption Process page for additional information on adopting one of our DAR&E Dobermans & an online application!
Our dogs are spayed/neutered, up-to-date on shots and microchipped.
How You Can Help Amiri
A Tax deductible sponsorship gifts of any amount are welcome in support of our orphans.
DAR&E Wear
$15
Step 1 on the road to a forever home is a collar and tag. DAR&E dogs always have a home with us. Support a dog on its first steps by sponsoring the purchase of their collar and tag.
SPONSORS

All sponsorship donations are tax deductible and will be used to care for and for medical treatment for dogs in DAR&E's care. You can sponsor multiple dogs.