Hi, I'm Angel
Status: adopted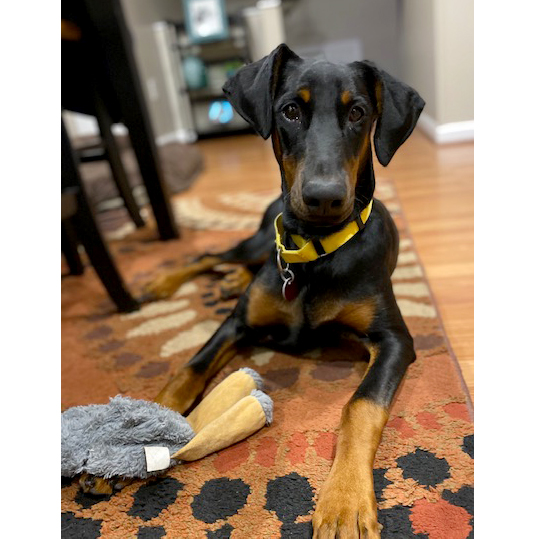 About Angel
Angel is 9 months old, she's black and rust with a docked tail and natural ears. Angel is house-trained, but an adopter should expect an accident or two as she adjusts to her new home. She is crate-trained too. Angel has an understanding of basic obedience cues and she walks fairly well on a front fastening harness. She loves to play with toys and her favorite toys are a basketball and Frisbee. She also enjoys chewing bones, puzzle or food dispensing toys, and other mental stimulating activities. Angel rides well in the car and enjoys short outings. Angel has a bit of a high-strung nature, so we've been working on reinforcing calm behaviors. In her previous home she had absolutely no training and it seems she was exposed to very little. Angel's ideal home will be with someone who has owned working-dogs and understands the importance of both physical and mental activity. She'll need an owner who will provide structure and be patient and fair as she continues to reach her full potential. At times when Angel feels overwhelmed, Angel will jump and sometimes bark, so someone will need to recognize Angel isn't being bad she's overwhelmed / over stimulated. Angel is not a candidate for townhouse living or dog parks. Angel has been fine with the large dogs she's met, so a home with a confident male dog who likes to play will be considered. Small fuzzy critters are not a fit for Angel.
This is My Story
Angel was turned into a shelter by elderly owners who could not handle her.
---
DAR&E only places within the Maryland, Virginia, Washington DC, Delaware, and in portions of both eastern West Virginia and southern Pennsylvania. Please do no apply to adopt if you live outside of those areas. Please visit our Adoption Process page for additional information on adopting one of our DAR&E Dobermans & an online application!
Our dogs are spayed/neutered, up-to-date on shots and microchipped.
How You Can Help Angel
A Tax deductible sponsorship gifts of any amount are welcome in support of our orphans.
DAR&E Wear
$15
Step 1 on the road to a forever home is a collar and tag. DAR&E dogs always have a home with us. Support a dog on its first steps by sponsoring the purchase of their collar and tag.
SPONSORS

All sponsorship donations are tax deductible and will be used to care for and for medical treatment for dogs in DAR&E's care. You can sponsor multiple dogs.