Hi, I'm Angel
Status: available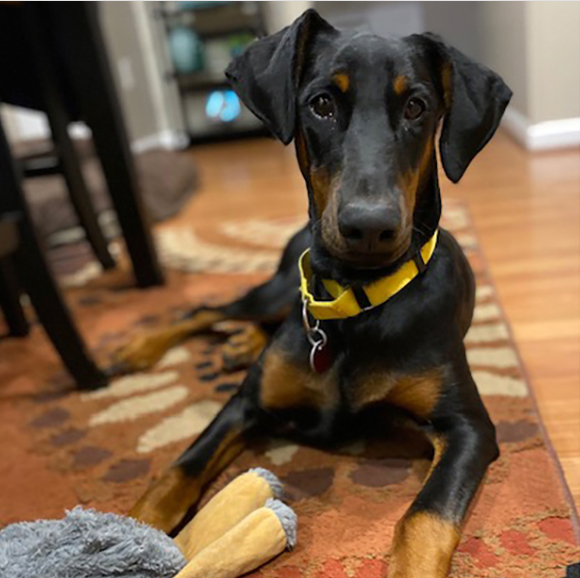 About Angel
Angel is a pretty 7 month old black and rust girl with natural ears and a docked tail. She weighs about 60lbs now, so she'll likely to be a good size when she's mature.
Angel was turned into a shelter by elderly owners who could not handle her. She had no training what so ever in her previous home. She is very smart and she is responding well using positive training methods. Angel is learning basic obedience cues and how to walk on leash.
Angel easily becomes over stimulated/aroused, and then will jump, mouth your hands and run non-stop around the house. Angel is being heavily reinforced for calm behaviors, and this is how she eats her meals throughout the day, as result Angel is starting to make better choices. Although, she is making great strides she still has a ways to go. House training is going well, because Angel is taken out often. Tossing a tasty treat will get Angel into her crate, although she does protest at times especially if her people are moving around the house. Angel happily gets into the car and she rides fairly well.
Angel will need to be exposed to new things at her own pace and one where she can be successful. Angel requires a fenced in yard (no electric fence). The ideal home for Angel will be a calm structured household with owners who are experienced with working breed dogs. She'll need an owner who is patient, consistent and fair. Someone who understands the importance of both mental stimulation and physical activity. If not challenged mentally, Angel will find her own fun and that likely will not be appreciated.
Angel would likely do well with scent work, tricks or some other type of dog activity. Angel likes other dogs, but she can be obnoxious and off putting to other dogs, so she will be placed as an only dog. She deserves to have someone committed entirely to her and provide what she's missed out on in her early months.
This is My Story
Angel was turned into a shelter by elderly owners who could not handle her.
---
DAR&E only places within the Maryland, DC, West Virginia and Virginia area. Please do no apply to adopt if you live outside of those areas. Please visit our Adoption Process page for additional information on adopting one of our DAR&E Dobermans & an online application!
Our dogs are spayed/neutered, up-to-date on shots and microchipped.
How You Can Help Angel
A Tax deductible sponsorship gifts of any amount are welcome in support of our orphans.
DAR&E Wear
$15
Step 1 on the road to a forever home is a collar and tag. DAR&E dogs always have a home with us. Support a dog on its first steps by sponsoring the purchase of their collar and tag.
SPONSORS

All sponsorship donations are tax deductible and will be used to care for and for medical treatment for dogs in DAR&E's care. You can sponsor multiple dogs.