Hi, I'm Athena
Status: adopted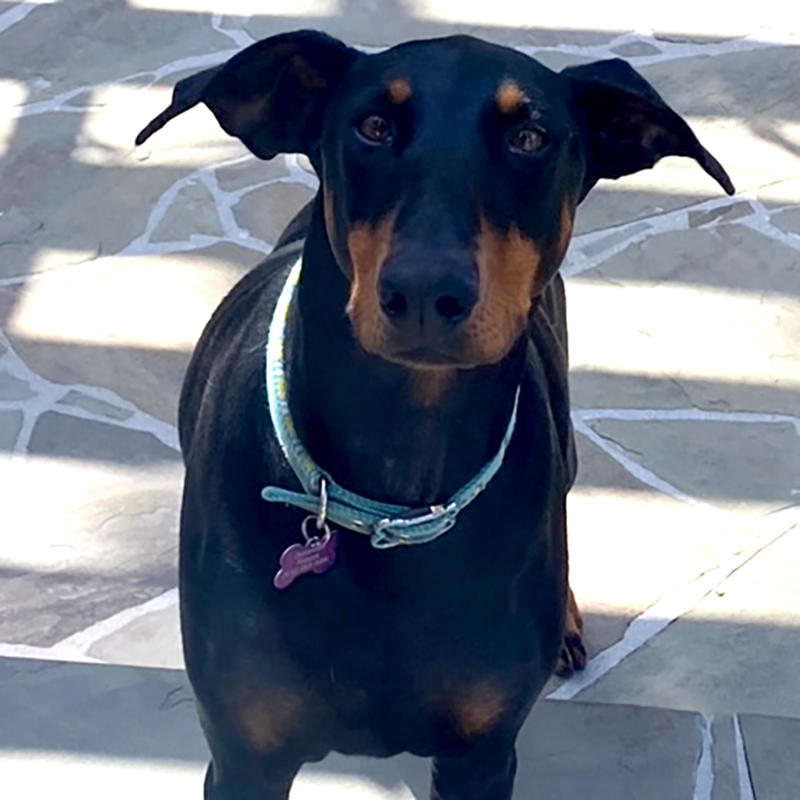 About Athena
Meet Athena, a goddess for sure, just not of war. She's more of an Aphrodite and everything about her is adorable. She is 2 years old with a docked tail and natural ears. She loves to have your attention but doesn't make a nuisance of herself demanding it. She's quite content to lie in her bed until you have time to give her more love. Athena was surrendered because she and the resident male dog couldn't peacefully agree who was top dog. Athena got along well with the other dogs in the home though and since being in her foster home, Athena has greeted every dog she meets on walks with a wagging nub and a playful bounce. She could be an alpha female, so to be safe, Athena will not be placed in a home that already has a large male or female dog. Small dogs might be ok as she played well with small dogs in her previous home but that's not a certainty.
Athena knows basic commands and only needs minor leash work. That being said, if she sees a squirrel before you do, you may be going for a run. Athena doesn't get on the couch and doesn't get on the bed. She only goes into the kitchen to be with you. She couldn't care less about your human food, she barely cares about her own. She's not the dog that inhales her meals in 30 seconds. She takes a bite and walks around chewing with her mouth open, sometimes right in your face. You won't be mad though, she's just that cute. She doesn't like to eat alone, so she typically waits until someone is around before she finishes her food.  She LOVES to go for walks but prefers to take her potty breaks in the yard off leash, so a fenced yard, even a small one, is a must. She's a master at getting a belly rub. She'll be standing getting petted then suddenly, she's on her back waiting for a belly rub. It's her favorite thing.  
Athena does not like to be in a crate and doesn't need to be. She's fine alone just lying in her bed for up to 10 hours, if necessary. She doesn't get into anything. She rarely barks and sleeps well through the night. Her only bad habit is jumping when she's excited. She loves treats, so she could be trained not to do this.
If you want a Dobe that is pure love, has very few bad habits, loves to run and play, but can be super chill, Athena may be the goddess for you.
This is My Story
Athena was surrendered because she and the resident male dog couldn't peacefully agree who was top dog.
---
DAR&E only places within the Maryland, Virginia, Washington DC, Delaware, and in portions of both eastern West Virginia and southern Pennsylvania. Please do no apply to adopt if you live outside of those areas. Please visit our Adoption Process page for additional information on adopting one of our DAR&E Dobermans & an online application!
Our dogs are spayed/neutered, up-to-date on shots and microchipped.
How You Can Help Athena
A Tax deductible sponsorship gifts of any amount are welcome in support of our orphans.
DAR&E Wear
$15
Step 1 on the road to a forever home is a collar and tag. DAR&E dogs always have a home with us. Support a dog on its first steps by sponsoring the purchase of their collar and tag.
SPONSORS

All sponsorship donations are tax deductible and will be used to care for and for medical treatment for dogs in DAR&E's care. You can sponsor multiple dogs.