Hi, I'm Aurora
Status: adopted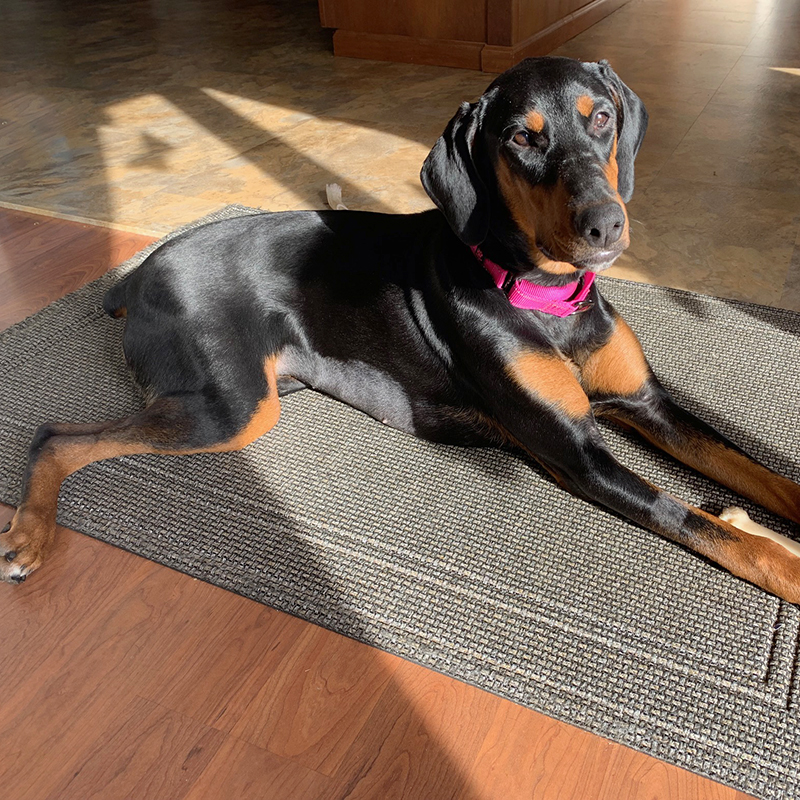 About Aurora
Meet Aurora, our sweet 8 month old Dobie pup!  Aurora loves to cuddle and is sure to steal your heart! I know she has stolen our hearts.  Aurora is black/tan with natural ears and a docked tail. She weighs 56 lbs. Aurora will probably fill out some more but shouldn't get much taller. She may top out around 65 lbs.
Aurora is all puppy so she does need someone who is willing to put in the work to catch her up on training that she has missed out on thus far in her life.  Aurora is very smart and very food motivated so she is very trainable. She has already learned to sit to get her leash on and off and to sit at the door. She sits and waits for her food. Aurora likes to use her feet so teaching her paw and other paw was easy. She is fearless, very curious and super smart so she would excel at Agility, nose work or other dog activities.
Aurora goes into her crate at night for a stuffed kong and sleeps through the night. She takes a couple naps during the day and is crated when not supervised because her puppy curiosity is sure to get her into mischief if left unsupervised. Aurora loves toys and chew items like nylabones, natural bones and antlers. Aurora also loves ice. She thinks ice cubes are a treat and quickly learned about the ice maker in the refrigerator door. She likes balls and of course she would love stuffed animals but she is sure to tear them up so they are off limits.
Aurora is very sweet and also a very busy puppy full of curiosity, but she can be calm. She is rewarded for the times that she is calm.  Aurora meets people well and loves other dogs. She would be very happy to have a playmate that is about her size or smaller. She is unknown with cats. Aurora rides well in the car. Due to her young age, Aurora requires a physically fenced yard. If you have the time and energy for a lovely dobie puppy, contact DAR&E to find out more about our sweet Aurora.  Aurora is being foster in in Virginia.
This is My Story
Aurora found herself needing DAR&E to find her a forever home.
---
DAR&E only places within the Maryland, Virginia, Washington DC, Delaware, and in portions of both eastern West Virginia and southern Pennsylvania. Please do no apply to adopt if you live outside of those areas. Please visit our Adoption Process page for additional information on adopting one of our DAR&E Dobermans & an online application!
Our dogs are spayed/neutered, up-to-date on shots and microchipped.
How You Can Help Aurora
A Tax deductible sponsorship gifts of any amount are welcome in support of our orphans.
DAR&E Wear
$15
Step 1 on the road to a forever home is a collar and tag. DAR&E dogs always have a home with us. Support a dog on its first steps by sponsoring the purchase of their collar and tag.
SPONSORS

All sponsorship donations are tax deductible and will be used to care for and for medical treatment for dogs in DAR&E's care. You can sponsor multiple dogs.