Hi, I'm Ava
Status: adopted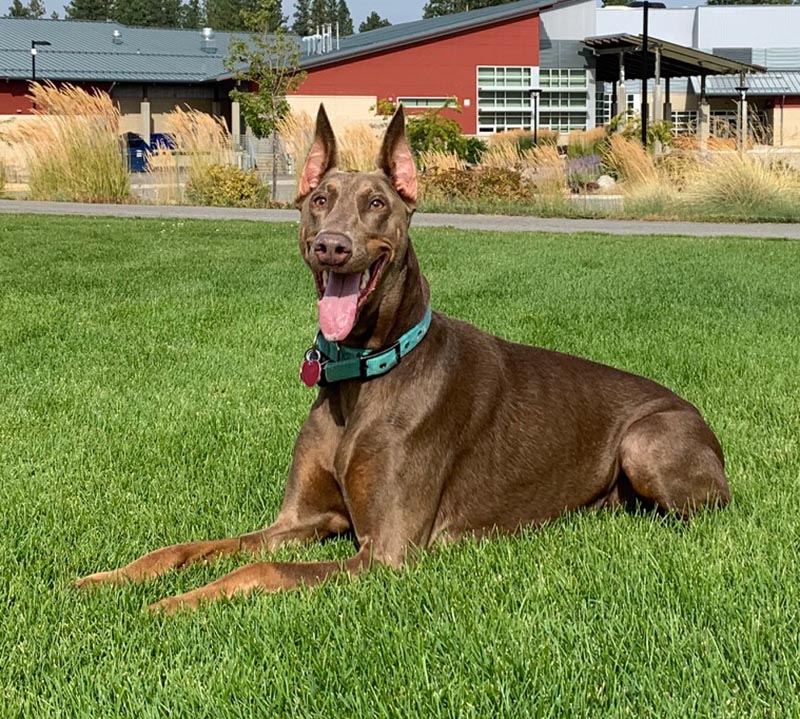 About Ava
Ava is a 7 year young fawn/rust female who is cropped and docked. She is a very playful and affectionate girl, who absolutely loves toys. She can entertain herself with a variety of toys, but balls are her favorite. If you throw the ball for her, she could chase it for hours. She is an energetic and healthy 7 year old that would do best in a home with no other pets because she doesn't trust other dogs and has a high prey drive. Ava loves being with her people and will shower you with kisses and nose boops.
Ava is your typical velcro Doberman and will follow you everywhere. Her signature move is to rest her chin on you until you pet her. Ava is housebroken and crate trained. When first crated, she can be vocal and paw at the crate, but she settles down within 10-15 minutes. Ava is crated at night and whenever we need to step out of the house. 
As energetic as Ava can be, she can settle down if you give her a comfy dog bed and some chew toys. She loves human affection and if you can't be petting her because you're cooking or working, she will do the Dobie lean to be connected to you.
If you have a large, fenced yard and no other pets and are looking to add a playful and affectionate Doberman lady to your household, please contact DAR&E today!
This is My Story
Ava found herself needing DAR&E to find her a new forever home.
---
DAR&E only places within the Maryland, Virginia, Washington DC, Delaware, and in portions of both eastern West Virginia and southern Pennsylvania. Please do no apply to adopt if you live outside of those areas. Please visit our Adoption Process page for additional information on adopting one of our DAR&E Dobermans & an online application!
Our dogs are spayed/neutered, up-to-date on shots and microchipped.
How You Can Help Ava
A Tax deductible sponsorship gifts of any amount are welcome in support of our orphans.
DAR&E Wear
$15
Step 1 on the road to a forever home is a collar and tag. DAR&E dogs always have a home with us. Support a dog on its first steps by sponsoring the purchase of their collar and tag.
SPONSORS

All sponsorship donations are tax deductible and will be used to care for and for medical treatment for dogs in DAR&E's care. You can sponsor multiple dogs.