Hi, I'm Ava
Status: adopted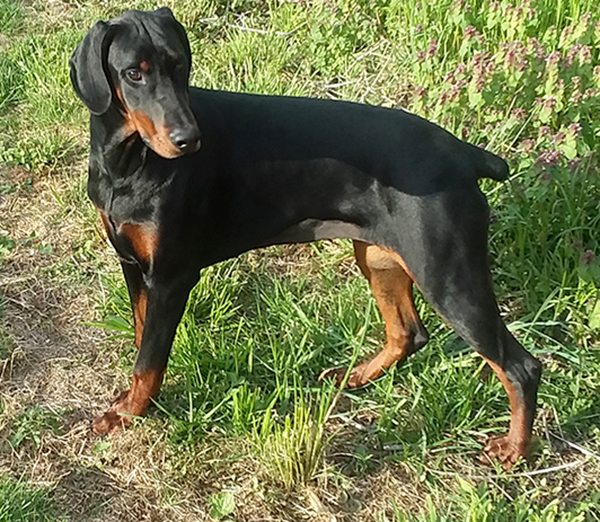 About Ava
Ava is a 6-month-old beautiful black and dark rust, very inquisitive little girl who is very shy and sometimes scared when meeting new people.  She requires a fully fenced-yard, no invisible fence.
She is good with other dogs, horses and appears to be ok with cats.  She will take an adopter who has some experience with scared and shy dogs and can get her out for hikes, social meetups, training and constant work to bring her out of her shell. 
She was raised on a farm with very little interaction but is a sweetheart. We have been working on leash walking and she has been excelling in that. Ava has learned a couple of basic commands and does use her crate at night and for a safe place.
If you have a calm, confident male dog who would like to help Ava get over her shyness, that would be even better.  The other day, along with one of her dog friends, we walked past bikes, small dogs and people without hesitation.  At this point in her life she is not good with children.  For some reason they really scare her, therefore a home with no children is a must. 
Car rides are tough.  She gets very stressed and will drool but doesn't throw up.  We have been working on short car rides and she has improved but still needs work.  Ava is very responsive to her name and for a 6 month old, listens very well once you have her attention. 
This is My Story
Ava ended up needing DAR&E to find her a new forever home.
---
DAR&E only places within the Maryland, DC, West Virginia and Virginia area. Please do no apply to adopt if you live outside of those areas. Please visit our Adoption Process page for additional information on adopting one of our DAR&E Dobermans & an online application!
Our dogs are spayed/neutered, up-to-date on shots and microchipped.
How You Can Help Ava
A Tax deductible sponsorship gifts of any amount are welcome in support of our orphans.
DAR&E Wear
$15
Step 1 on the road to a forever home is a collar and tag. DAR&E dogs always have a home with us. Support a dog on its first steps by sponsoring the purchase of their collar and tag.
SPONSORS

All sponsorship donations are tax deductible and will be used to care for and for medical treatment for dogs in DAR&E's care. You can sponsor multiple dogs.