Hi, I'm Azalea
Status: adopted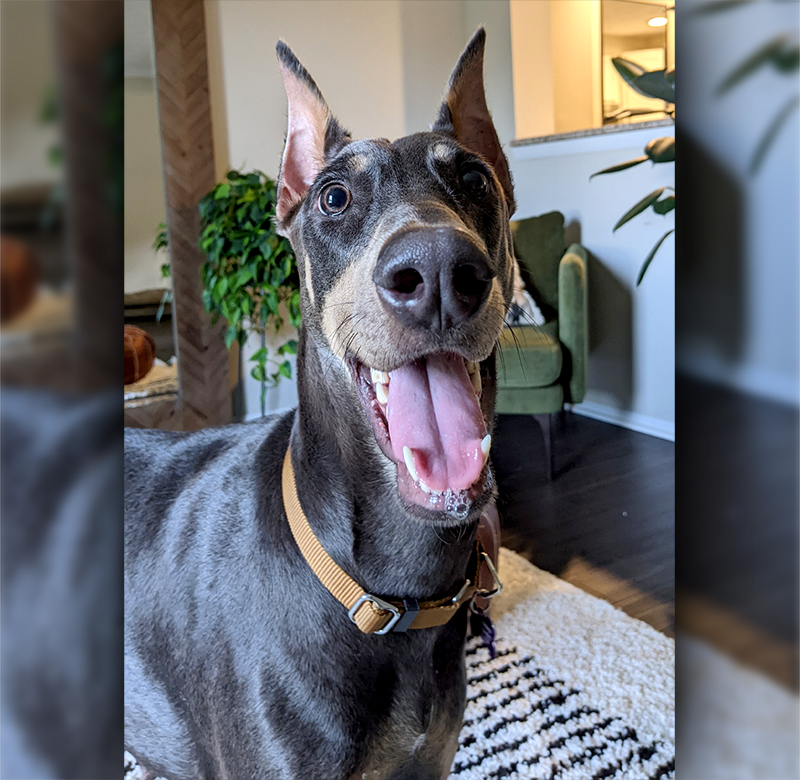 About Azalea
Azalea is an incredibly sweet and good-natured four-year-old dog. Azalea is very affectionate to humans and dogs alike and loves to be up close and personal with her family in whatever they are doing. Azalea would do best with a dog that does not have a large personal bubble. On more than one occasion, we have found her cuddling with our resident male Doberman. She is not aggressive towards cats and is trusted around our senior cat, but she is really best suited for a cat-free home. She will chase cats if they run and can easily overwhelm them with her playfulness. 
Azalea is a lively, energetic, and playful girl. She would do best with a family that is very active. She enjoys going on walks and would love a yard to run in as she is very fast and athletic. She is a good eater, but sometimes has to be reminded to finish her food because she'd rather go off and do something fun. Azalea knows how to fetch and will gladly chase whatever you'll throw for her. The more erratically bouncy the toy you throw the better. Azalea has been known to toss her own toys and sticks when she is feeling particularly goofy. 
Azalea is crate-trained and house-trained. She loves plush toys and likes to carry them with her around the house. She is surprisingly quiet for a Doberman and has shown herself to not be much of a barker at our house. When guests enter our home, she is friendly and eager to meet them but has not been vocal. Azalea is working on not pawing and jumping up when excited. She can also be mouthy when excited. Azalea is always eager to please.
As a blue Doberman, Azalea is experiencing some early-stage hair thinning on her sides and back. She otherwise has a beautiful and soft coat. She is cropped and docked. Azalea is a petite and delicate little lady at around 60 lbs.
Azalea is such a delightful girl who is guaranteed to put a smile on your face with all her silly antics and very affectionate nature. If you don't like Dobie kisses, this is not the girl for you. Her standout characteristic is her love of showering her people with endless kisses!
This is My Story
Azalea was found as a stray by a shelter who transferred her to us to find her forever home.
---
DAR&E only places within the Maryland, Virginia, Washington DC, Delaware, and in portions of both eastern West Virginia and southern Pennsylvania. Please do no apply to adopt if you live outside of those areas. Please visit our Adoption Process page for additional information on adopting one of our DAR&E Dobermans & an online application!
Our dogs are spayed/neutered, up-to-date on shots and microchipped.
How You Can Help Azalea
A Tax deductible sponsorship gifts of any amount are welcome in support of our orphans.
DAR&E Wear
$15
Step 1 on the road to a forever home is a collar and tag. DAR&E dogs always have a home with us. Support a dog on its first steps by sponsoring the purchase of their collar and tag.
SPONSORS

All sponsorship donations are tax deductible and will be used to care for and for medical treatment for dogs in DAR&E's care. You can sponsor multiple dogs.