Hi, I'm Bear
Status: adopted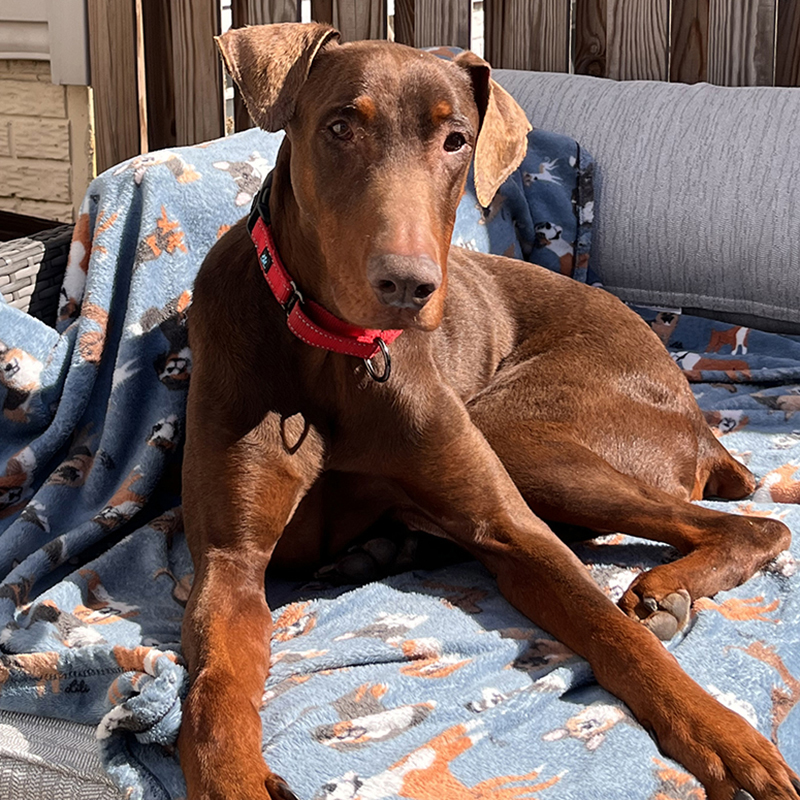 About Bear
Meet Bear or as we like to call him Care Bear.  Bear is a red/rust, natural eared, docked, totally lovable goofball.  When he first came in, his previous owners thought he was five.  However, with his bright sparkly teeth, my vet puts him more around 3.5 to 4 years old  He's around 75lbs and will need to put on another few to be at his best weight.  Bear is definitely a lover not a fighter and wants nothing more than to be loved on for the rest of his life.  Bear is house trained and as long there is a stuffed kong involved he will happily go into his crate while your away.  He's met other large dogs and does fine with them.  On walks he has walked by smaller dogs as they were barking at him and he has completely ignored them.  We have not seen him growl or be mean towards anything, well unless your a squirrel and then he's not aggressive just really excited.  When he sees a squirrel on our walks he does what I like to call his Wookiee impression.  We have been able to take things away from him and hug on him and he just goes along without any problem.  His leash walking needs some improvement but nothing a little time won't improve.  Bear does well with some walks during the day and sometimes a bit of play time with his humans but he's just a nice even tempered medium energy Doberman.  He sleeps on a dog bed in our room at night and wouldn't mind a blanket thrown over him and a bit of a cuddle for bed time.
Bear loves people and he thinks everyone should be his friend. He has these eyes that just begs anyone and everyone to come and love him.  The staff at my vet's office has totally fallen under his spell and so does everyone else that meets him.  How about you?  Do you think you could fall in love with him?  Can you be his forever person?  Finding his forever home would make him one happy Care Bear.
This is My Story
---
DAR&E only places within the Maryland, Virginia, Washington DC, Delaware, and in portions of both eastern West Virginia and southern Pennsylvania. Please do no apply to adopt if you live outside of those areas. Please visit our Adoption Process page for additional information on adopting one of our DAR&E Dobermans & an online application!
Our dogs are spayed/neutered, up-to-date on shots and microchipped.
How You Can Help Bear
A Tax deductible sponsorship gifts of any amount are welcome in support of our orphans.
DAR&E Wear
$15
Step 1 on the road to a forever home is a collar and tag. DAR&E dogs always have a home with us. Support a dog on its first steps by sponsoring the purchase of their collar and tag.
SPONSORS

All sponsorship donations are tax deductible and will be used to care for and for medical treatment for dogs in DAR&E's care. You can sponsor multiple dogs.