Hi, I'm Bella
Status: adopted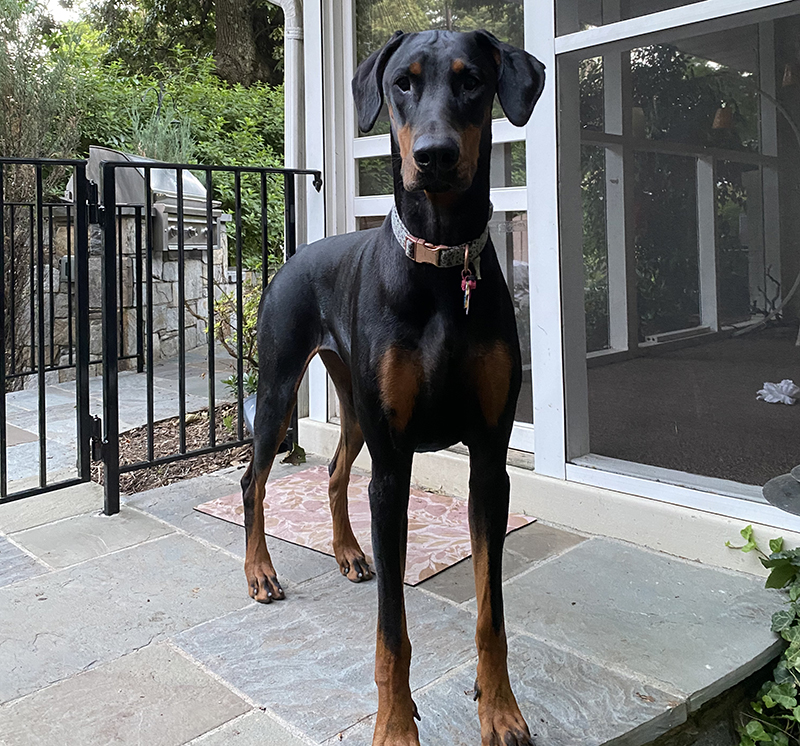 About Bella
Meet Bella! Bella is a beautiful black female Doberman with long legs and a sleek coat with Mahogany markings. Bella is spayed and microchipped. She is 14 months old and is an absolute love bug with her people. She is very affectionate with kisses and loves to cuddle. She loves to play with her toys and getting a bone to keep her busy, and also enjoys puzzles for treats to keep her mind busy. Bella is house trained and would love a large fenced yard to run in, especially if she has a dog buddy to play with. She also loves her relaxing time in her dog bed. 
She is young and motivated to please, so continued training will be good for her and her new family.  She is well on her way with lots of training. She knows the commands sit, down, paw, leave it, place, and stay, but she has a hard time staying in her stay position. 
She is super spoiled, and is accustomed to outings in the car to the dog park and hikes in the woods. While at the dog park, she meets and greets every dog she can to see if they will play with her. It's so adorable because Bella is so sweet about it. 
On hikes, she looks back at her person to check in and comes quickly when called. Because Bella does have normal instincts to protect her people, she needs more direction with commands when a new person approaches on a hike or on a walk on the street. 
She walks very well on the leash but desires to get ahead of her person. More time leash training would be great for her. 
She used to be shy about the water on hikes and now she steps right in to cross and even dips her nose in! Now she's fearless crossing! 
She has not had the opportunity to swim but she might with encouragement.
If Bella is joining a family who has a friendly dog that would work well for Bella. Unless there is access to other dogs she can play with every day. 
Bella's all time favorite game with other dogs is chase. She is even gentle with much smaller dogs. 
This is My Story
---
DAR&E only places within the Maryland, Virginia, Washington DC, Delaware, and in portions of both eastern West Virginia and southern Pennsylvania. Please do no apply to adopt if you live outside of those areas. Please visit our Adoption Process page for additional information on adopting one of our DAR&E Dobermans & an online application!
Our dogs are spayed/neutered, up-to-date on shots and microchipped.
How You Can Help Bella
A Tax deductible sponsorship gifts of any amount are welcome in support of our orphans.
DAR&E Wear
$15
Step 1 on the road to a forever home is a collar and tag. DAR&E dogs always have a home with us. Support a dog on its first steps by sponsoring the purchase of their collar and tag.
SPONSORS

All sponsorship donations are tax deductible and will be used to care for and for medical treatment for dogs in DAR&E's care. You can sponsor multiple dogs.