Hi, I'm Blitz
Status: adopted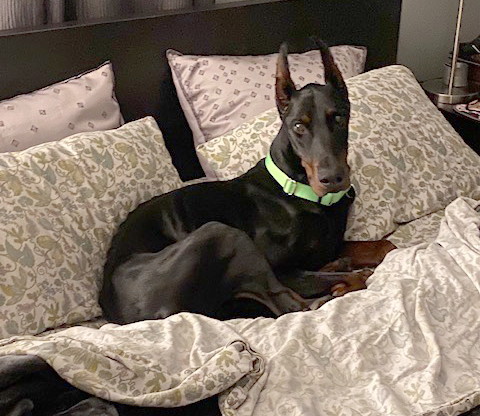 About Blitz
Meet Blitz. 3 years old, cropped, docked and oh so handsome. He gets all the attention when he's out on a walk. He's sweet and loving with people and is very excited when visitors come to the house. He would go on ten walks a day if you took him. It's his favorite thing to do, but he still sits patiently while you put on his harness. He needs leash work. He pulls, but it's only to get to the next smell. He walks in a zig-zag because he doesn't know which side of the sidewalk to smell next. He seems a bit overwhelmed in a heavily dog-populated neighborhood. He loves to greet other dogs and is playful in his approach. He cries when he sees a dog in the distance that he can't meet, but he couldn't care less about the squirrel racing around or that cat lounging under a nearby car.
Blitz would do best in a home with another dog that is equally playful as he cannot entertain himself. He rarely plays with toys or chews on bones and when he does it's for maybe 20 seconds. He would much rather follow you around the house. If you think you can get out of his sight for just a minute, think again. He is the ultimate "velcro dog". If he could fit in your pocket, he would be perfectly content to be in there. He will "tell" you exactly how he feels when you are not giving him enough attention. He needs to learn kitchen manners and shouldn't be trusted around unattended food until he learns some. He is crate-trained. He doesn't love it and will take a few minutes to stop crying and settle down, but he appreciates being left with a peanut butter filled ball or Kong to soothe him. It's not the confinement he dislikes, it's that you're leaving without him. He will need a lot of exercise. If you can't walk fast and go on 2-3 walks a day, then you need to have a large yard where he can run and play, preferably with a dog friend. If he's not tired, he will pace throughout the night.
Blitz will make a wonderful companion and give you all his love. He just wants to be with you. That's his happy place.
This is My Story
He was in a shelter, by no fault of his own. He found himself needing DAR&E to find him a new forever home.
---
DAR&E only places within the Maryland, Virginia, Washington DC, Delaware, and in portions of both eastern West Virginia and southern Pennsylvania. Please do no apply to adopt if you live outside of those areas. Please visit our Adoption Process page for additional information on adopting one of our DAR&E Dobermans & an online application!
Our dogs are spayed/neutered, up-to-date on shots and microchipped.
How You Can Help Blitz
A Tax deductible sponsorship gifts of any amount are welcome in support of our orphans.
DAR&E Wear
$15
Step 1 on the road to a forever home is a collar and tag. DAR&E dogs always have a home with us. Support a dog on its first steps by sponsoring the purchase of their collar and tag.
SPONSORS

All sponsorship donations are tax deductible and will be used to care for and for medical treatment for dogs in DAR&E's care. You can sponsor multiple dogs.