Hi, I'm Blitz
Status: adopted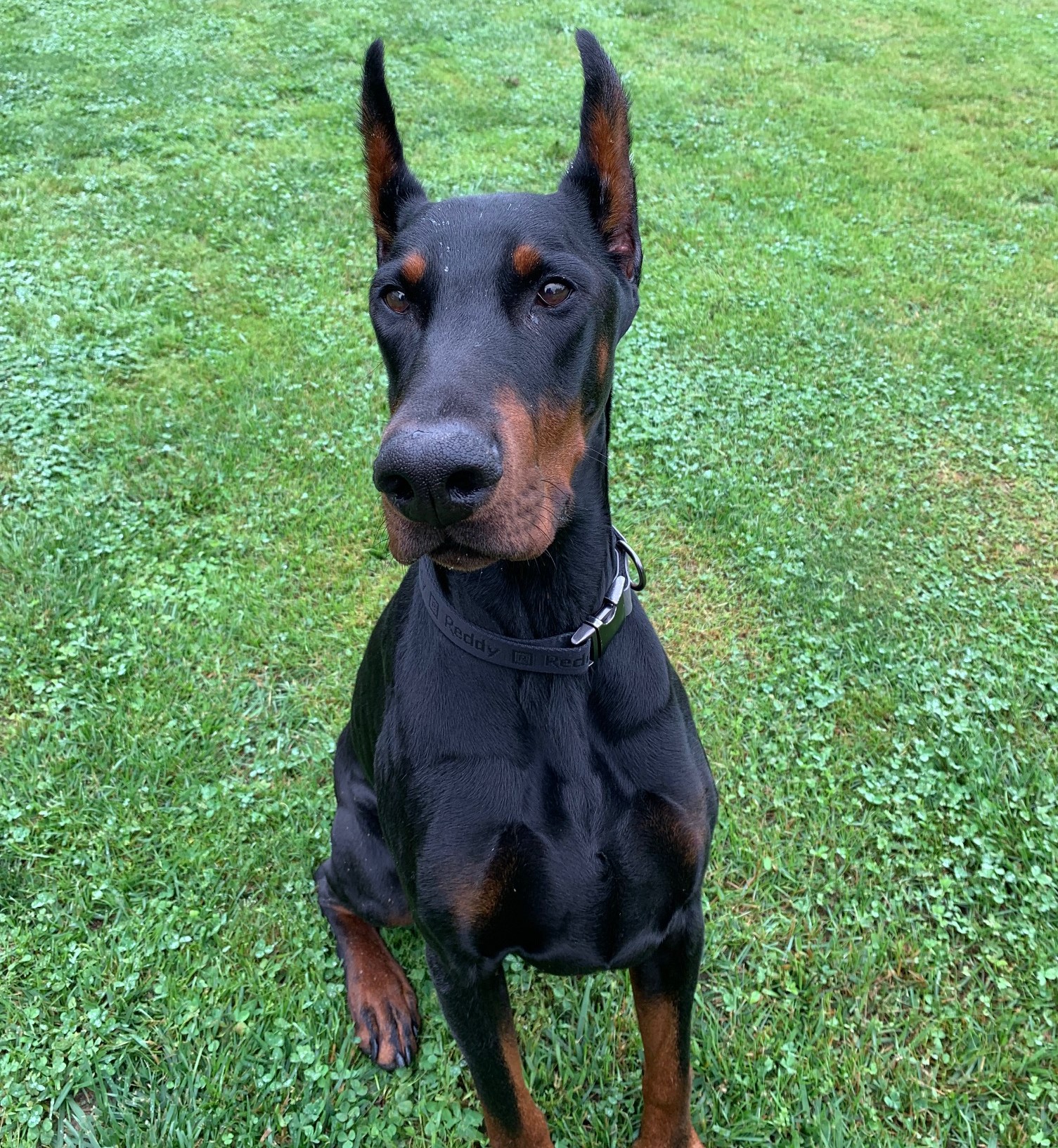 About Blitz
Blitz is a 3 year old black/tan male Doberman with cropped ears and a docked tail. Blitz came to DAR&E from a shelter where he ended up when his owner got sick. Blitz is a sweet boy who will charm you with his dark eyes and good looks. He listens really well most of the time. The first thing I taught him was to "look at me" otherwise he can get distracted very easily.  Blitz will sit, wait for his food, give paw, down, sit, wait to go out doors, sit before coming out of his crate, go in his crate on command, etc.
Here is a short video
Blitz is a great dog in many ways.  He is looking for a quiet environment where there are not a lot of strange dogs and people walking around the area that he feels compelled to investigate.  Blitz enjoys hanging out with his humans in the back yard.
Here is a video of Blitz playing in our yard:
Blitz rides well in the car and he is house and crate trained.  You can pet Blitz all over, bathe him, cut his nails, etc. Sometimes he jumps up when he is excited. I just turn my back to him which diffuses his excitement. 
Blitz is always interested in what is going on around him but he will cuddle with you if you lay on the floor. Blitz loves food so he can be occupied with treat balls/toys but don't leave human food on counters, tables, etc because Blitz will take it. Its best to not allow him in the kitchen.  
A home with a large fenced yard in a quiet area will allow Blitz (and his owner) to relax and enjoy life instead of Blitz answering the call of his working breed instincts to investigate all goings on. Blitz loves to go for walks but true to his European breeding, Blitz feels compelled to investigate any activity so he is very difficult to walk on a leash if he sees dogs or people that he feels compelled to go meet.  He isn't being aggressive but he will pull quickly and strongly toward them. If you don't let him go meet the dog or person he gets frustrated and will bark/whine/cry, etc. Blitz is not good with cats. His previous home had chickens in the back yard which Blitz found way too stimulating.
Blitz is looking for a someone who understands the needs and thinking process of a dog with strong working breed instincts. Someone who can be his kind but firm leader and perhaps help Blitz develop more impulse control. If you live in a quiet area, Blitz is a great dog to have around. 
This is My Story
He was in a shelter, by no fault of his own. He found himself needing DAR&E to find him a new forever home.
---
DAR&E only places within the Maryland, Virginia, Washington DC, Delaware, and in portions of both eastern West Virginia and southern Pennsylvania. Please do no apply to adopt if you live outside of those areas. Please visit our Adoption Process page for additional information on adopting one of our DAR&E Dobermans & an online application!
Our dogs are spayed/neutered, up-to-date on shots and microchipped.
How You Can Help Blitz
A Tax deductible sponsorship gifts of any amount are welcome in support of our orphans.
DAR&E Wear
$15
Step 1 on the road to a forever home is a collar and tag. DAR&E dogs always have a home with us. Support a dog on its first steps by sponsoring the purchase of their collar and tag.
SPONSORS

All sponsorship donations are tax deductible and will be used to care for and for medical treatment for dogs in DAR&E's care. You can sponsor multiple dogs.