Hi, I'm Bo Blue
Status: adopted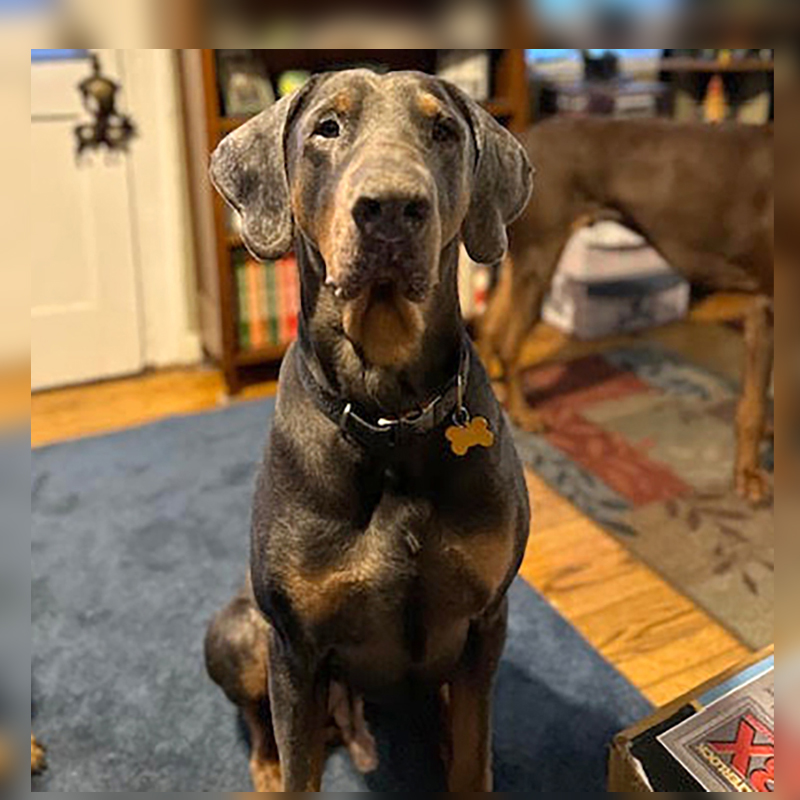 About Bo Blue
Bo Blue is a 5-year-old blue male that weighs 97 pounds with a docked tail and natural ears. Blue Dobermans are known for their great personalities. Bo Blue is a big sweet, goofy boy that loves to follow you around, sit by your side to be petted and give you big, happy, kisses. He will grab a toy and do the cutest big wiggle butt dance to greet you when you come home or when you get up in the morning. https://youtube.com/shorts/1J9vnWnQTdM?feature=share 
At home he doesn't like a crate but does well without one. He would probably do well in a situation where he doesn't have too many hours alone. He does like to sleep on the furniture and although I've tried to discourage him, he's pretty comfortable there. (So if you don't want a dog that doesn't get on furniture, this is not your dog.) 
He gets along well with the other dogs, enjoying playtime and easily fitting into the routine of meals. He is very food motivated for training but will also seek out food on the counters. He walks pretty well on the leash with occasional pulling out of excitement when he sees something he's interested in. He has plenty of energy to keep up with the younger dogs for play time but is good to hang out with you and chill also.
He loves to run in the yard or go out for a walk. He has plenty of energy to spare. He prances and dances through life, grabbing a toy for the dance and is ready to go. I've taken him to the local feed store, and he was a perfect gentleman sitting for treats and loving the attention. He rides well in the car with a restraint so he doesn't help you drive, he only takes a little bit to settle down for the ride. He needs some training to not counter surf, beg for food or not rush the door but is already showing improvement.
Bo Blue is a happy go lucky guy with sweet, soulful eyes looking for a forever home. 
This is My Story
Bo Blue found himself needing DAR&E to find him a new forever home.
---
DAR&E only places within the Maryland, Virginia, Washington DC, Delaware, and in portions of both eastern West Virginia and southern Pennsylvania. Please do no apply to adopt if you live outside of those areas. Please visit our Adoption Process page for additional information on adopting one of our DAR&E Dobermans & an online application!
Our dogs are spayed/neutered, up-to-date on shots and microchipped.
How You Can Help Bo Blue
A Tax deductible sponsorship gifts of any amount are welcome in support of our orphans.
DAR&E Wear
$15
Step 1 on the road to a forever home is a collar and tag. DAR&E dogs always have a home with us. Support a dog on its first steps by sponsoring the purchase of their collar and tag.
SPONSORS

All sponsorship donations are tax deductible and will be used to care for and for medical treatment for dogs in DAR&E's care. You can sponsor multiple dogs.