Hi, I'm Bones
Status: adopted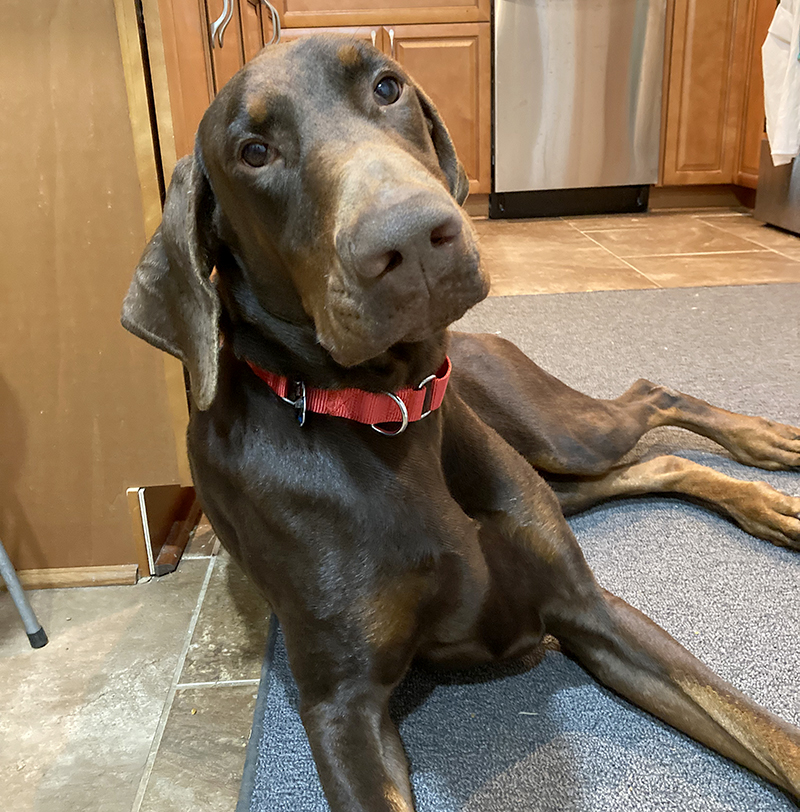 About Bones
Well, they call me Bones because I love BONES! I am a calm three year old red/tan Doberman with natural ears and a docked tail. I weigh a healthy 93 pounds. I'm shy when I first meet new people but I will turn on the charm once I know you. I am super sweet and love nothing more than to have my ears rubbed and my belly scratched.
I'm an independent and confident guy, I enjoy chewing on bones, balls and Kongs. I know how to sit and come when called; but I am a deep sleeper, so you may have to call my name twice at nap time. I am house-trained and I love lounging in my man cave, AKA crate.
I need a fenced-in yard for my morning "zoomies". When I'm done zooming around the yard, belly rubs are definitely in order. I'm learning to play with a ball, but I'm not sure why my foster family keeps throwing the ball; when they want it back….? I will bark once for back up, if I see something in the yard that needs your attention. I don't like cats and squirrels, especially those in our yard. 
I prefer to lay on my dog bed, but I will often remind my foster family to pet me by placing my foot on the couch or leg.  Sometimes, they need me to push my head right under their hand to make it easier to pet me. 
I have been with my foster family for a few weeks and I'm learning new things every day. We are practicing walking on a leash, I'm learning not to pull but there is so much going on in the outside world, it can be fascinating. Apparently, I need to focus on riding safely in a car, I really wish I could sit in the driver's seat. My foster family says I need a safety harness. I'm learning to be patient by waiting for the command "go" before I go outside or have dinner.  I need a family who is willing to work with me on walking on a leash, car rides and waiting. Are you the right family for me? 
This is My Story
---
DAR&E only places within the Maryland, Virginia, Washington DC, Delaware, and in portions of both eastern West Virginia and southern Pennsylvania. Please do no apply to adopt if you live outside of those areas. Please visit our Adoption Process page for additional information on adopting one of our DAR&E Dobermans & an online application!
Our dogs are spayed/neutered, up-to-date on shots and microchipped.
How You Can Help Bones
A Tax deductible sponsorship gifts of any amount are welcome in support of our orphans.
DAR&E Wear
$15
Step 1 on the road to a forever home is a collar and tag. DAR&E dogs always have a home with us. Support a dog on its first steps by sponsoring the purchase of their collar and tag.
SPONSORS

All sponsorship donations are tax deductible and will be used to care for and for medical treatment for dogs in DAR&E's care. You can sponsor multiple dogs.