Hi, I'm Brachmeier
Status: adopted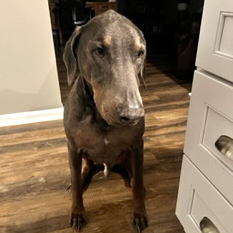 About Brachmeier
Brachmeier, also known as Mr. B or just B, is an almost 9-year-old, 95lb blue Doberman. Unfortunately, B was surrendered to his veterinarian after his owner passed away. His vet graciously gave B a place to stay in their boarding kennel to keep him out of a shelter, and he lived there for several months before finding a foster home in Nov. 2022.

Like many blue Dobermans, B has Color Dilution Alopecia (CDA) which causes much of his hair to fall out. He is on Apoquel, thyroid medication, and a regimen of vitamins to help keep his skin and hair in good condition and will need to remain on these medications and vitamins in his new home.

B is extremely affectionate and will work for either treats or love. He is fully housebroken and will go to the back door to let you know when he needs to go out. He sleeps very well all through the night on his heated blanket on the couch. B is very smart and has the hang of several commands including sit, down, wait and stay. He has learned to walk well on a leash and is continuing to learn new commands and good behavior from Dean's List K9 Training, who has generously donated private lessons for B and his foster family.

B has shown some minor resource guarding with the resident dogs in his foster home around food. He feels most comfortable when he can eat in peace without the other dogs around. However he shares toys and plays very well with the resident dogs at his foster home and dogs at doggie daycare. For an older dog, B really loves to play and would do well in a forever home where there is another medium to large dog for him to play with. B is not good with cats as he desperately wants to chase them. B has been wonderful with the older child (13 years old) in his foster home. In fact, the kiddo is his favorite snuggle partner.

B loves to curl up on his bed in front of the fireplace on chilly days. Although he likes to play, as a senior dog he doesn't need extensive exercise beyond playtime. He just wants to be close to his people and really loves to cuddle on the couch with his foster family.

Please contact Anne Pankey at annepankey@gmail.com or 904-477-3790 if you are interested in giving B a forever home where he can live out his golden years. We would prefer a home in Virginia but will consider all applicants.
This is My Story
---
DAR&E only places within the Maryland, Virginia, Washington DC, Delaware, and in portions of both eastern West Virginia and southern Pennsylvania. Please do no apply to adopt if you live outside of those areas. Please visit our Adoption Process page for additional information on adopting one of our DAR&E Dobermans & an online application!
Our dogs are spayed/neutered, up-to-date on shots and microchipped.
How You Can Help Brachmeier
A Tax deductible sponsorship gifts of any amount are welcome in support of our orphans.
DAR&E Wear
$15
Step 1 on the road to a forever home is a collar and tag. DAR&E dogs always have a home with us. Support a dog on its first steps by sponsoring the purchase of their collar and tag.
SPONSORS

All sponsorship donations are tax deductible and will be used to care for and for medical treatment for dogs in DAR&E's care. You can sponsor multiple dogs.