Hi, I'm Captain
Status: adopted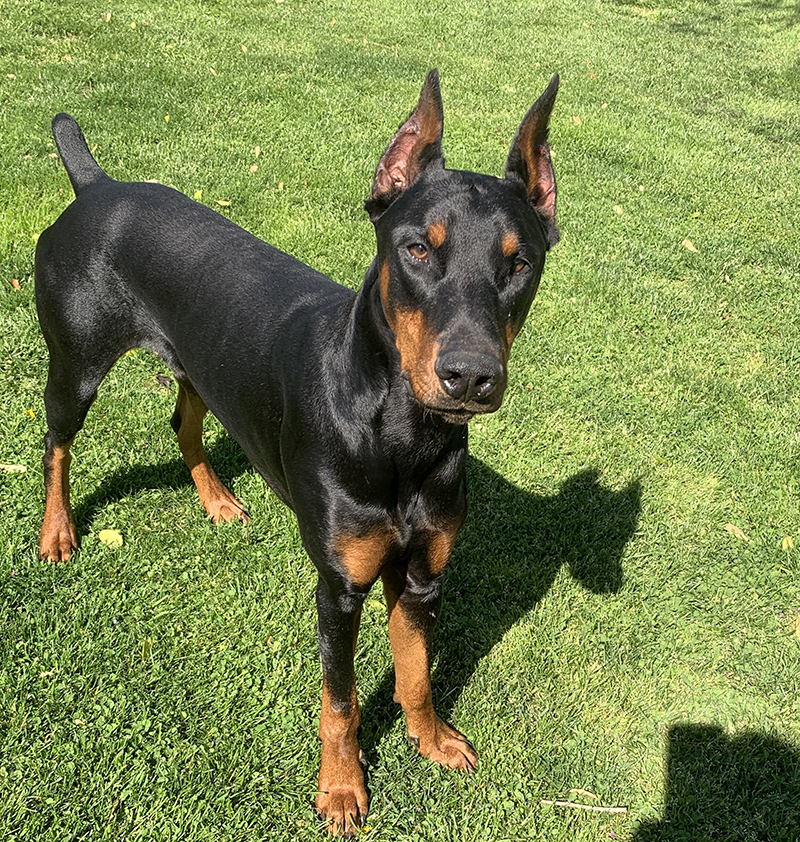 About Captain
Hi I am Captain. I am an energetic 1 year old black/rust male with cropped ears and a docked tail. I am about 75 pounds and extremely handsome. I love to cuddle and snuggle as I am a really good dog. I am bold and love to patrol the yard for things that are not supposed to be there and I will let you know about the things that fly over the yard.
I love to have my chin scratched, my butt scratched and the top of my head. I love to play with my toys and like a marrow bone from time to time. I love to play with my foster buddies in the back yard and go for a ride with them. I like to have my head out the window because the breeze feels so good.
I try not get on the furniture or jump on people but I have a lot of puppy in me and will need you to have patience as I learn not to. I am learning to like the crate to curl up in and go to bed in. Currently this is a challenge for me as I love the hoomans in my life. 
I am totally house broken but my foster mom found out I don't like cats. I have a really high prey drive. Because of my energy, I don't do well with little kids as I don't know my own strength.
I know how to sit, down, leave it, come and I walk on a leash like a true gentleman. I need LOTS of practice and patience with the rest of my manners.
I will need someone that knows how I think and can help me burn off all this energy. I would make a great running buddy when I'm old enough. 
I am a talker and will carry on a conversation with you. I definitely need an experienced Doberman owner. If you think I would fit into your home, please contact DAR&E. I am hoping to meet my forever parents soon. 
This is My Story
---
DAR&E only places within the Maryland, Virginia, Washington DC, Delaware, and in portions of both eastern West Virginia and southern Pennsylvania. Please do no apply to adopt if you live outside of those areas. Please visit our Adoption Process page for additional information on adopting one of our DAR&E Dobermans & an online application!
Our dogs are spayed/neutered, up-to-date on shots and microchipped.
How You Can Help Captain
A Tax deductible sponsorship gifts of any amount are welcome in support of our orphans.
DAR&E Wear
$15
Step 1 on the road to a forever home is a collar and tag. DAR&E dogs always have a home with us. Support a dog on its first steps by sponsoring the purchase of their collar and tag.
SPONSORS

All sponsorship donations are tax deductible and will be used to care for and for medical treatment for dogs in DAR&E's care. You can sponsor multiple dogs.