Hi, I'm Carmen
Status: adopted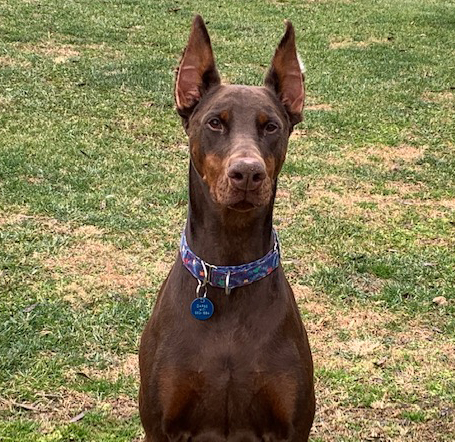 About Carmen
Meet Carmen! Carmen is a lovely red/rust female Doberman. Her ears are cropped, and her tail docked; size wise Carmen is a good weight at about 80 lbs. Carmen will be 5 years old in January.
Carmen is a very sweet girl who will look into your soul with her eyes pleading for your love. She loves to lay her head on your chest and look into your eyes while you stroke her ears. She will coo and stay there for as long as you will pet her. This is Carmen, a true love bug! Carmen came to DAR&E because her owners had children and the wife felt that Carmen was too needy and too big to be around their little ones. She is friendly and meets people well. She matches the energy and intent of the dogs she meets. Carmen has lived with other dogs, but she would be most happy if she is the center of attention. Carmen has a fair amount of prey drive and energy to burn. Her owner says she is a strong No for cats.
Carmen's previous owner trained Carmen to do many things including playing dead, spinning, speaking on command, etc. Carmen is a very smart girl. She knows the commands in English, Farsi and with hand signals. Carmen would do well with someone interested in getting involved in advanced dog training and/or dog sporting activities. Carmen is eager to please her human…most of the time 🙂 Carmen will play some fetch but is easily distracted to chase birds or investigate other sights and sounds. Here are a couple videos that show Carmen's personality:
Carmen would enjoy a fenced yard to play in and owners who are active and have lots of time for her. She is good in the house and isn't difficult to have around. Carmen is a bit of a whiner during car rides. If you have lots of time and love to give a dog and are looking for a loving, active companion Carmen may be your girl.
A couple more videos of our girl:


This is My Story
Carmen came to DAR&E because her owners had children and the wife felt that Carmen was too needy and too big to be around their little ones.
---
DAR&E only places within the Maryland, Virginia, Washington DC, Delaware, and in portions of both eastern West Virginia and southern Pennsylvania. Please do no apply to adopt if you live outside of those areas. Please visit our Adoption Process page for additional information on adopting one of our DAR&E Dobermans & an online application!
Our dogs are spayed/neutered, up-to-date on shots and microchipped.
How You Can Help Carmen
A Tax deductible sponsorship gifts of any amount are welcome in support of our orphans.
DAR&E Wear
$15
Step 1 on the road to a forever home is a collar and tag. DAR&E dogs always have a home with us. Support a dog on its first steps by sponsoring the purchase of their collar and tag.
SPONSORS

All sponsorship donations are tax deductible and will be used to care for and for medical treatment for dogs in DAR&E's care. You can sponsor multiple dogs.