Hi, I'm Charlie
Status: adopted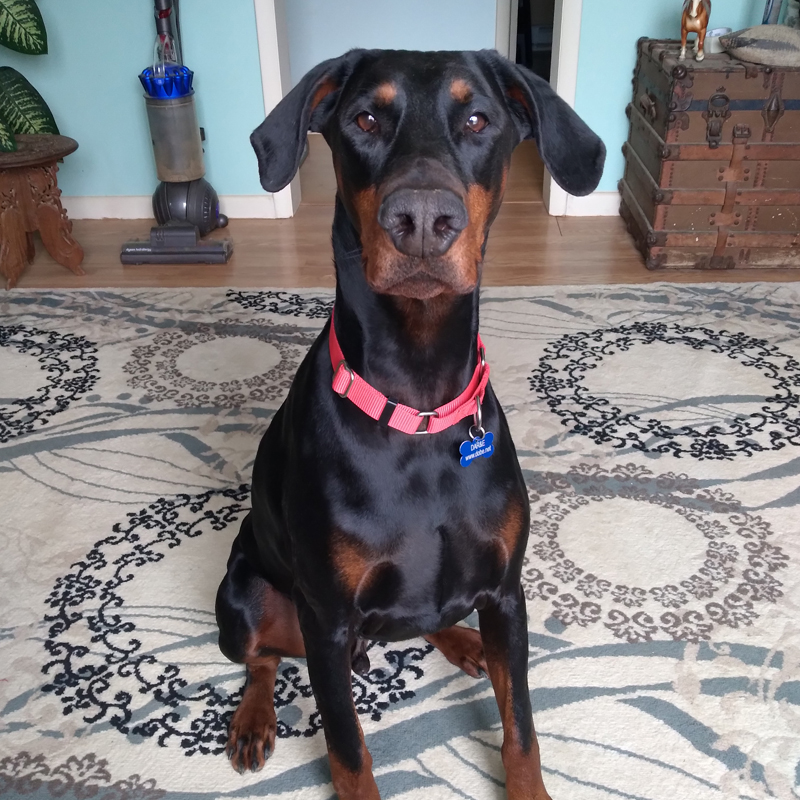 About Charlie
Charlie is a 4 yr old black and dark tan, natural eared and docked male Doberman.  He is crate trained, house trained, good with other dogs, loves toys and loves to play. 
Charlie loves to play with the one female I have here but is very good with small dogs too.  I don't know about cats.  He has been very reactive to my horses so I'm not sure how he would be to cats. 
He has been good with visitors to my house but is very nervous/anxious around children. 
Charlie has definitely had some training and knows his basic commands of sit, down and wait.  He would love to be a couch potato if he was allowed to be.  Loves laying on the couch with me. 
Charlie is not destructive in any way other than just being a big active boy who can accidentally bounce into things.  He came from a good home where his previous owners had to go overseas and couldn't take him. 
Charlie is a very sweet and loving boy who always wants to be where his master is.
This is My Story
Charlie came from a good home where his previous owners had to go overseas and couldn't take him. They asked DAR&E to find him a good home.
---
DAR&E only places within the Maryland, Virginia, Washington DC, Delaware, and in portions of both eastern West Virginia and southern Pennsylvania. Please do no apply to adopt if you live outside of those areas. Please visit our Adoption Process page for additional information on adopting one of our DAR&E Dobermans & an online application!
Our dogs are spayed/neutered, up-to-date on shots and microchipped.
How You Can Help Charlie
A Tax deductible sponsorship gifts of any amount are welcome in support of our orphans.
DAR&E Wear
$15
Step 1 on the road to a forever home is a collar and tag. DAR&E dogs always have a home with us. Support a dog on its first steps by sponsoring the purchase of their collar and tag.
SPONSORS

All sponsorship donations are tax deductible and will be used to care for and for medical treatment for dogs in DAR&E's care. You can sponsor multiple dogs.