Hi, I'm Chase
Status: adopted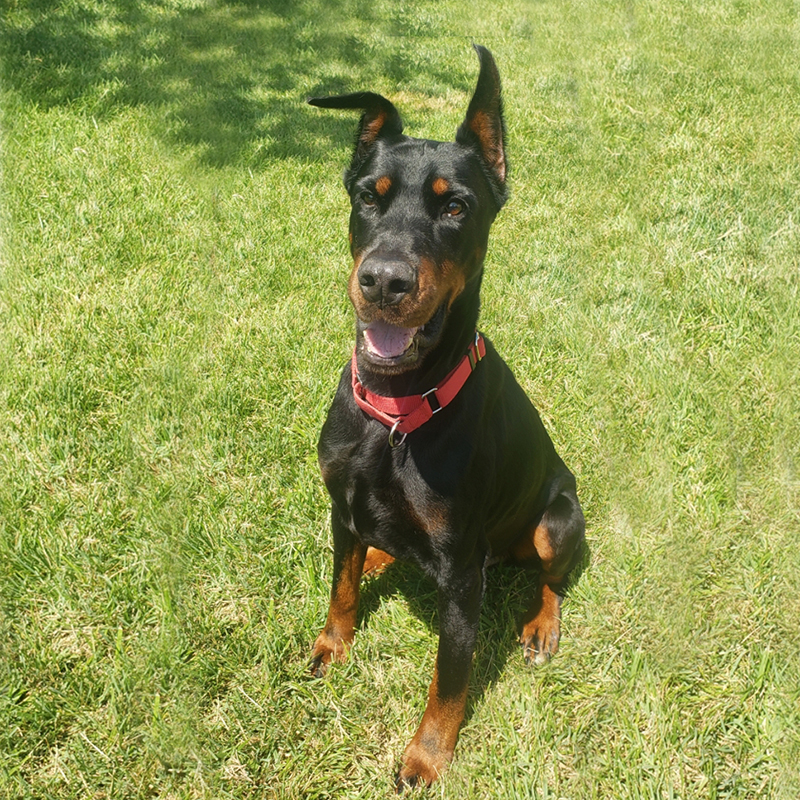 "Chase's adoption fee has been paid by Michelle Hammond, in memory of her boy that has passed away."
About Chase
This is Chase! He's a handsome 9 year-old! He is very alert in between his naps and will not leave your side. Like all Dobermans he is a good watch dog, but he loves to meet whoever is on the other side. He has great manners when meeting new people, no jumping or excessive running around. A few sniffs and you're in! Other than that, he is a very quiet guy. Chase is house-trained and goes whenever you take him out. He loves being around his person and will need to be in a home where someone is there most of the day or only leaves him for short stints.
Chase doesn't have much experience with other dogs so he would be best placed in a home with no other pets. He loves his Kong filled with treats and is really good at getting them out. If one is stuffed in there really good, he will roll the Kong down the steps to loosen it up. When it's empty, he'll put it in your lap for a refill. Chase is great at playing fetch – he locks in on the ball, sits for you to throw it, dashes after it and brings it right back. If the weather is nice, he'll give you a good 30 minutes of play, but when it's too hot, he takes the ball and goes to lay in shade or stands by the gate to let you know he's ready for some A/C.
Chase is a healthy boy, weighing between 70-75 lbs. He sits and waits patiently for his meal to be prepared and doesn't have any food aggression. Chase is neutered and up to date on all his vaccines.
This is My Story
---
DAR&E only places within the Maryland, Virginia, Washington DC, Delaware, and in portions of both eastern West Virginia and southern Pennsylvania. Please do no apply to adopt if you live outside of those areas. Please visit our Adoption Process page for additional information on adopting one of our DAR&E Dobermans & an online application!
Our dogs are spayed/neutered, up-to-date on shots and microchipped.
How You Can Help Chase
A Tax deductible sponsorship gifts of any amount are welcome in support of our orphans.
DAR&E Wear
$15
Step 1 on the road to a forever home is a collar and tag. DAR&E dogs always have a home with us. Support a dog on its first steps by sponsoring the purchase of their collar and tag.
SPONSORS

All sponsorship donations are tax deductible and will be used to care for and for medical treatment for dogs in DAR&E's care. You can sponsor multiple dogs.