Hi, I'm Coco Chanel
Status: adopted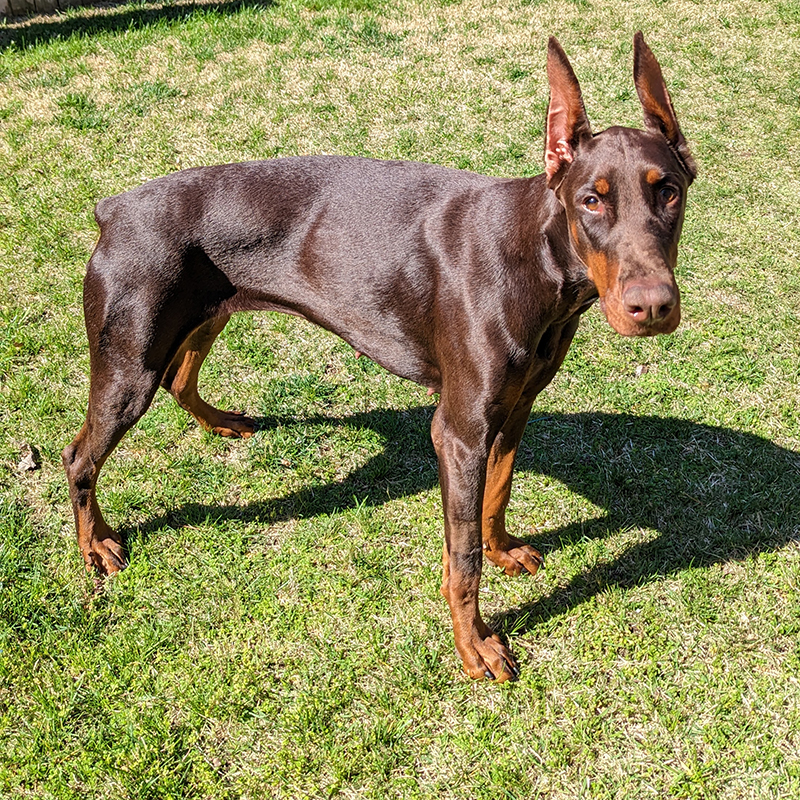 About Coco Chanel
Coco Chanel is a stunning 1 year old, cropped and docked red female. Coco is a highly intelligent and incredibly affectionate girl. She has a strong will and lots of energy, a combination that requires an owner who can provide consistent structure and sufficient physical and mental stimulation. Despite her sassy nature, Coco is eager to please. She just needs her family to set clear boundaries, especially when it comes to expressing her excitement and happiness. If allowed, Coco's preferred method of greeting would be to jump and give you a hug, hence the need for consistent and clear boundaries so she knows what behaviors are or are not acceptable. Coco is still very much a puppy but is house-trained and doing well with crate training. Her new family should expect to continue to work on crate training.
Coco loves other dogs her size, she is very affectionate towards them and wants to play endlessly. She has been on the submissive side towards the large dogs in our home and is great about sharing resources with them – toys, food, treats, and water. Coco loves all toys, especially those with stuffing that she can pull out. She hasn't shown a tendency to ingest pieces of her toys, but should still be supervised when playing with toys.
Coco is not a good match for an older dog that is calm or aloof, she'd overwhelm them with her enthusiasm. Coco is also not suited for a home with small dogs or cats. They are very overstimulating to her and would not allow her to relax and be her best self. I have not personally observed Coco with children but based on her energy level and exuberant personality, she would do best in a home that doesn't have small children visiting frequently.
Coco is looking for a family that will continue to provide the training and guidance all young Doberman need to learn good behaviors. She's smart and will test what she can get away with. A family with experience raising young dogs as intelligent and energetic as Dobermans is a real plus. While Coco will question you along the way, she is still incredibly loyal and loving to her person. 
Coco enjoys going on walks and while she pulls on traditional collars and harnesses, she does much better when walked with a Gentle Leader. Coco is alert on walks and will sometimes bark if something really piques her interest. When she's tired, Coco is happy to curl up at your feet or crawl into your lap. She thinks she is a lap dog! 
This is My Story
Coco Chanel found herself needing DAR&E to find her a new home.
---
DAR&E only places within the Maryland, Virginia, Washington DC, Delaware, and in portions of both eastern West Virginia and southern Pennsylvania. Please do no apply to adopt if you live outside of those areas. Please visit our Adoption Process page for additional information on adopting one of our DAR&E Dobermans & an online application!
Our dogs are spayed/neutered, up-to-date on shots and microchipped.
How You Can Help Coco Chanel
A Tax deductible sponsorship gifts of any amount are welcome in support of our orphans.
DAR&E Wear
$15
Step 1 on the road to a forever home is a collar and tag. DAR&E dogs always have a home with us. Support a dog on its first steps by sponsoring the purchase of their collar and tag.
SPONSORS

All sponsorship donations are tax deductible and will be used to care for and for medical treatment for dogs in DAR&E's care. You can sponsor multiple dogs.