Hi, I'm Coco
Status: adopted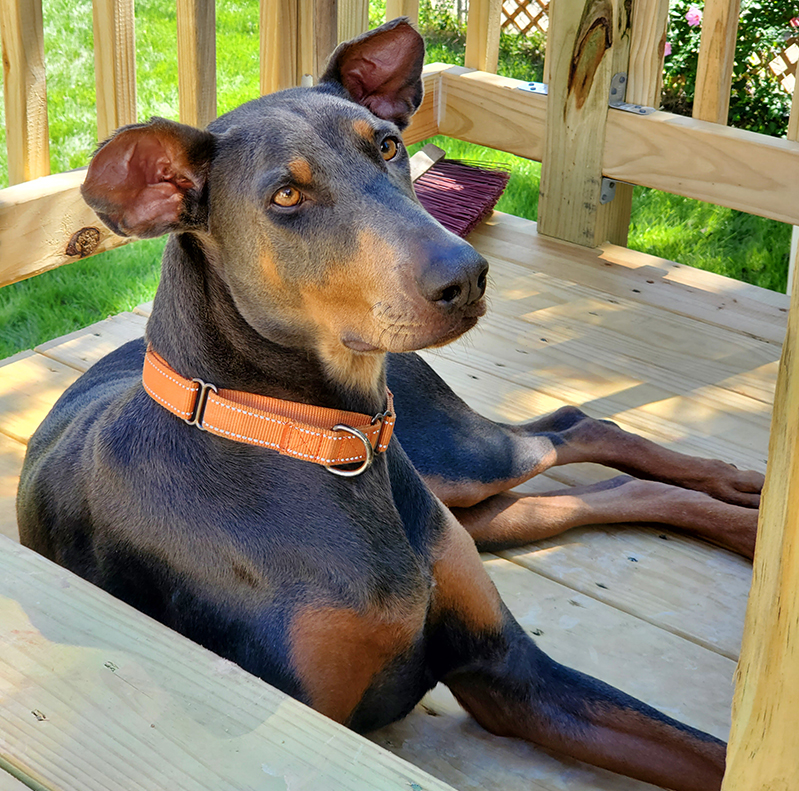 About Coco
This is Coco! She's a gorgeous blue, 1 year old Dobie with the energy to match.
Coco has great manners upon introduction – no jumping or barking, but she requires lots of rubs to enter and throughout your stay! She loves to be with you at all times. Sometimes you may have to crate her or put her away so she can get some rest and you can get some work done. Coco is house trained and crates well. She can stay home alone without accidents or getting into things (trash cans). She's good on a leash and knows some basic commands but will need someone willing to invest a lot of time in training as with all young dogs. She sits and waits for her meals to be prepared and does not have any food aggression.
Coco loves to lay out on the deck and run up and down the steps outside, but she is not comfortable with indoor stairs or entering front doors. She may be better fit for a home with no stairs and multiple entrances.
Coco is maintaining weight at 66 pounds and is not expected to get much bigger.
This is My Story
Coco came to us from a shelter who asked us to find her a forever home.
---
DAR&E only places within the Maryland, Virginia, Washington DC, Delaware, and in portions of both eastern West Virginia and southern Pennsylvania. Please do no apply to adopt if you live outside of those areas. Please visit our Adoption Process page for additional information on adopting one of our DAR&E Dobermans & an online application!
Our dogs are spayed/neutered, up-to-date on shots and microchipped.
How You Can Help Coco
A Tax deductible sponsorship gifts of any amount are welcome in support of our orphans.
DAR&E Wear
$15
Step 1 on the road to a forever home is a collar and tag. DAR&E dogs always have a home with us. Support a dog on its first steps by sponsoring the purchase of their collar and tag.
SPONSORS

All sponsorship donations are tax deductible and will be used to care for and for medical treatment for dogs in DAR&E's care. You can sponsor multiple dogs.