Hi, I'm Dana
Status: adopted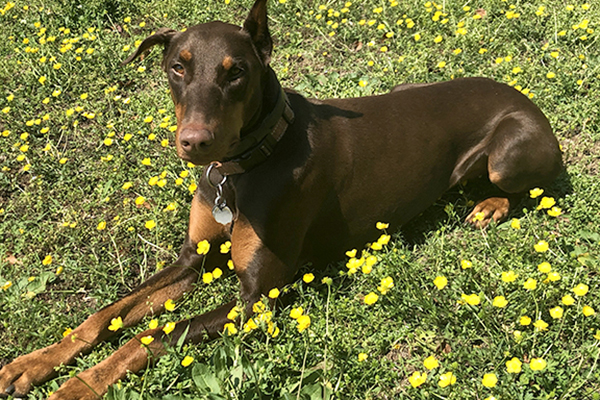 About Dana
Dana is a sassy red and rust Dobergirl with cropped ears and a docked tail. She just turned 2 years old at the end of April. She is house trained and knows some commands. She walks with a little pulling on the leash and wants to be close to people she has bonded with. Dana is cautious with strangers and needs her space until she warms up to new people.
She alerts to loud noises and unfamiliar sounds and will react by barking and pacing in agitation. As is typical of insecure dogs, Dana is more defensive around men than she is women. Dana can be skittish in unfamiliar situations. She does best in a predictable and relatively peaceful environment. Dana seems insecure and wants to be near anyone she bonds with. She follows you around to make sure you're not going anywhere, lays on the floor at your feet (on your feet lol!), and needs her people to accompany when she goes outside to do her business. Even in a fenced familiar yard she does not want to be outside by herself.
Dana is affectionate when she gets to know you. She wants to please. Dana needs a fenced yard to run and play. She needs a family who has time to provide an active lifestyle with her. She loves to run around the yard with balls or toys in her mouth. She is alert to noises but will keep the ball/toy in her mouth as she checks out new sounds or movements; squirrels and rabbits are of particular interest! At other times Dana will bring balls back so she can retrieve them over and over and over!
Dana needs an experienced Doberman owner who will give her confidence and lots of attention. She needs a family that has time to spend with her, play with her, and keep her actively engaged in doggie pursuits. How she does with cats is unknown but if something runs she will chase it!  
I don't have other dogs but Dana did go to doggie daycare in her previous home so I expect she will be ok with other dogs.   
This is My Story
Dana ended up needing DAR&E to find her a new forever home.
---
DAR&E only places within the Maryland, Virginia, Washington DC, Delaware, and in portions of both eastern West Virginia and southern Pennsylvania. Please do no apply to adopt if you live outside of those areas. Please visit our Adoption Process page for additional information on adopting one of our DAR&E Dobermans & an online application!
Our dogs are spayed/neutered, up-to-date on shots and microchipped.
How You Can Help Dana
A Tax deductible sponsorship gifts of any amount are welcome in support of our orphans.
DAR&E Wear
$15
Step 1 on the road to a forever home is a collar and tag. DAR&E dogs always have a home with us. Support a dog on its first steps by sponsoring the purchase of their collar and tag.
SPONSORS

All sponsorship donations are tax deductible and will be used to care for and for medical treatment for dogs in DAR&E's care. You can sponsor multiple dogs.