Hi, I'm Dax
Status: adopted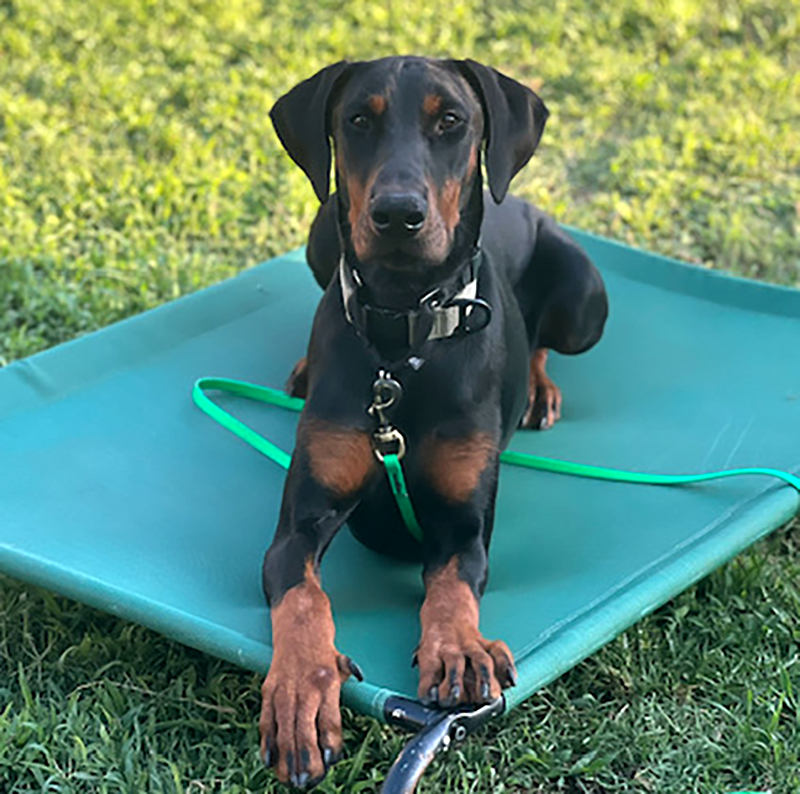 About Dax
Meet one year old Dax. He is a black, natural-eared, docked boy. He is a big cuddle bug that wants your love and attention. He is definitely a velcro boy and wants to follow you everywhere you go. He's great with other dogs and kids, though sometimes he doesn't know how big his feet are and will step on our toddler's foot. But Dax is super gentle playing with our son and they absolutely love each other.  Dax is great with people and everyone who meets him talks about how sweet he is. He loves playing with other dogs. He loves to cuddle and wants to curl up tight with you whenever you are on the couch.
He has a lot of energy and is always on the move or playing with a toy. He is working on leash training, but it's obvious he hasn't had much leash experience. He's pretty underweight right now and looks like he has some filling out to do. He loves chewing on bones and tossing ropes around and, of course, showing all of them to you hoping you'll play with him.
At one year old, he is still a puppy so he will need someone to work on typical training. He loves treats and is very food motivated. He knows sit, wait, and bed. He came from a home that crated him a lot so he does not like to be in there but we are working on it.
This is My Story
Dax needs DAR&E to find him a new home.
---
DAR&E only places within the Maryland, Virginia, Washington DC, Delaware, and in portions of both eastern West Virginia and southern Pennsylvania. Please do no apply to adopt if you live outside of those areas. Please visit our Adoption Process page for additional information on adopting one of our DAR&E Dobermans & an online application!
Our dogs are spayed/neutered, up-to-date on shots and microchipped.
How You Can Help Dax
A Tax deductible sponsorship gifts of any amount are welcome in support of our orphans.
DAR&E Wear
$15
Step 1 on the road to a forever home is a collar and tag. DAR&E dogs always have a home with us. Support a dog on its first steps by sponsoring the purchase of their collar and tag.
SPONSORS

All sponsorship donations are tax deductible and will be used to care for and for medical treatment for dogs in DAR&E's care. You can sponsor multiple dogs.