Hi, I'm Dobi Wan
Status: adopted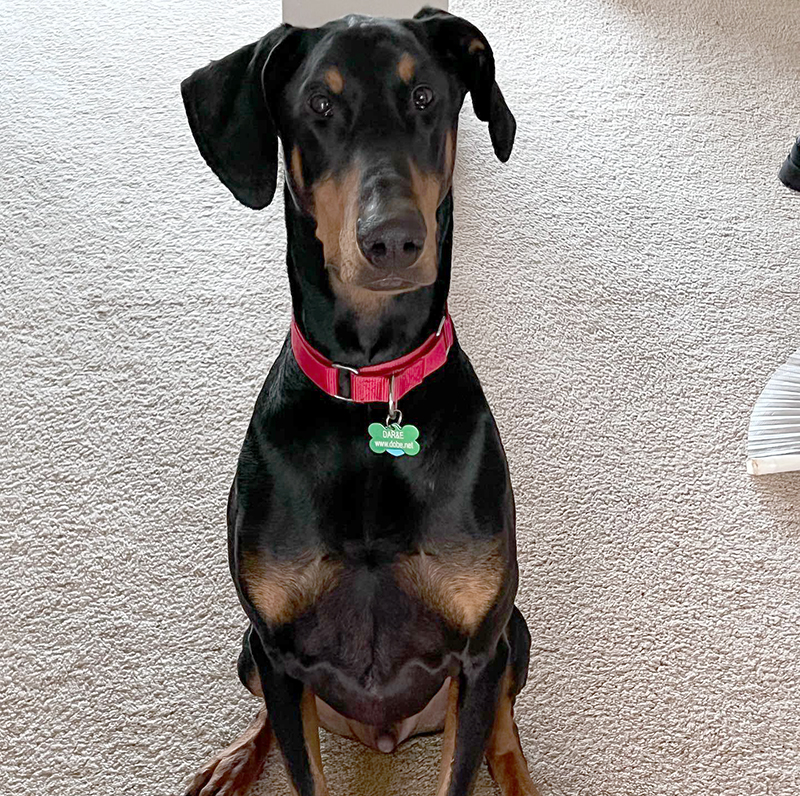 About Dobi Wan
Hi. I am Dobi Wan. I am a very regal, long legged, natural ears and docked tail, three-year-old puppy. I love to romp around like a puppy and play with the squeakiest toys. In my foster home, I have a doggie playmate and we like to play tug-o-war. In fact, I love to play with all dogs and humans, but a bigger dog would be more ideal because I don't realize how big I am.
I love attention! I will talk to you to get you to pay attention to me. I have been given free roam of the house. I am crate-trained but I don't need to be crated. I don't get into anything, but I will sit on the furniture. When you come home, I will bring you a toy, a sock, a shoe or whatever is close. I'm a good neighborhood watch dog and bark at people who walk by.
I walk nicely on my leash, and I love long walks. I could walk for miles and not get tired. At bedtime, I love a nice soft bed with my own blanket to snuggle. I even pull the blanket over my head. I never get on the humans' bed. I know how to sit, lay, shake, wait and I know what it means when I'm told to get in my bed. I am very smart- and food- motivated and am very capable of learning so much more. 
I sometimes feel like I need to guard my special things. I like to eat unbothered, but I am learning to trust that nobody is going to take my food. Something that scares me is when I am woken up suddenly or touched while I am sleeping. I really just like to be left alone in my sleep space. I show my teeth and make noise until I realize I am safe. But my foster mom says that can be intimidating and may scare people. She talks to me, and I calm down. 
I am looking for an experienced Dobe owner, who isn't easily intimidated by my silly antics. One that doesn't have kids or kids that visit often since they might not understand my antics and needs. I am very interested in birds, bunnies, and squirrels so its best that I avoid homes with cats.
My dad really loved me and hoped he could get out of the hospital and take care of me but he is real sick so he asked DAR&E to find me a new home. I know my forever home is out there and I have lots of love to give. 
This is My Story
Dobi Wan came to DAR&E because his owner was struggling with a terminal disease. Dobi Wan spent time in boarding before the owner realized he needed to find a new home for him.
---
DAR&E only places within the Maryland, Virginia, Washington DC, Delaware, and in portions of both eastern West Virginia and southern Pennsylvania. Please do no apply to adopt if you live outside of those areas. Please visit our Adoption Process page for additional information on adopting one of our DAR&E Dobermans & an online application!
Our dogs are spayed/neutered, up-to-date on shots and microchipped.
How You Can Help Dobi Wan
A Tax deductible sponsorship gifts of any amount are welcome in support of our orphans.
DAR&E Wear
$15
Step 1 on the road to a forever home is a collar and tag. DAR&E dogs always have a home with us. Support a dog on its first steps by sponsoring the purchase of their collar and tag.
SPONSORS

All sponsorship donations are tax deductible and will be used to care for and for medical treatment for dogs in DAR&E's care. You can sponsor multiple dogs.