Hi, I'm Dodger
Status: adopted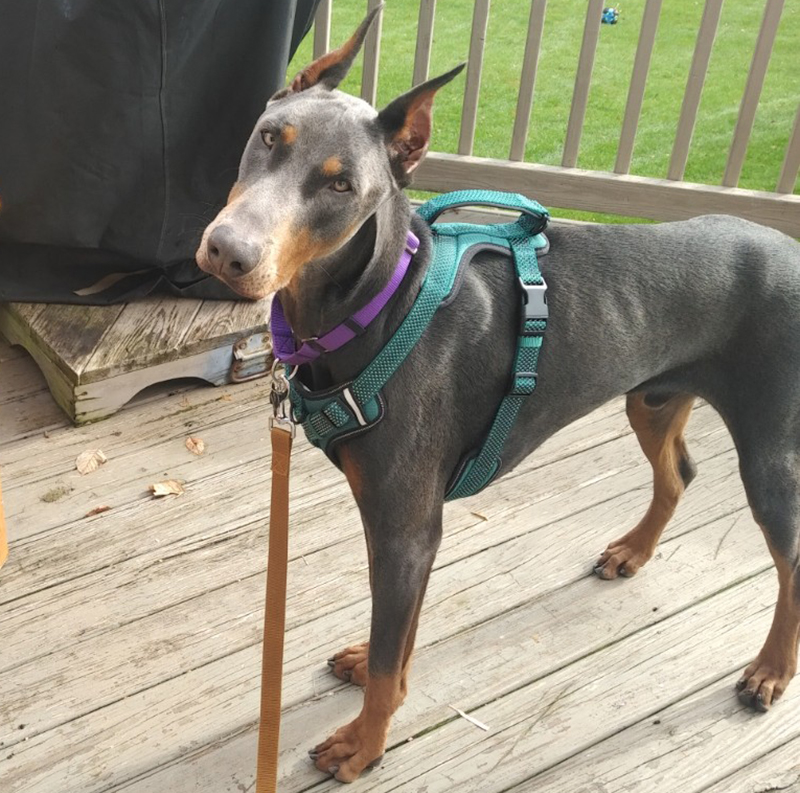 About Dodger
Hi, my name is Dodger and I am very friendly, well mannered, 70 pound, 14 month old blue/tan male. Since I arrived at my foster home, I have been very friendly with meeting new people. I met a lot of new adults over the Christmas Holiday and I was friendly and gentle with all of them. I love to have physical contact with people.  If you are sitting on the floor there is a really good chance I will try to climb in your lap. I like to fall asleep next to you and will ask for lots of attention by nudging you with my muzzle or giving you gentle kisses. Once I'm settled into my new home, I will follow you around like your shadow. 
I still have a lot of puppy in me, so I have tons of energy to run and play.  Outdoors, I like to play with my "Chuck it" toys and run in the yard to release all my puppy energy.  I will need to walk on a lead when I'm outside of my yard. I'm learning basic commands like 'sit' and 'stay'. I am doing really well with walking on a leash without a lot of tugging or pulling.
Inside the house I'm house-trained, and I am on a strict schedule. I'm usually calm and well mannered in the house, but I can get excited when I greet people coming into the house.  I will need you to be very consistent to help me continue my good manners and good behavior in the house. I have been working on my crate training, but it does take me anywhere from 5-15 minutes to settle in and not whimper or whine. If I've had a long walk or run before going into my crate and will usually settle down quickly. I sleep through the night in my crate.
In the three weeks I've been at my foster home I have not chewed on anything other than my toys but I have picked up shoes, slippers, etc,  and carried them to my bed or my crate. On a couple of occasions I have climbed in the bed or the couch to be next to someone.
I am very alert and vigilant. I will bark to let you know when someone is near the front door or if I see someone through a window.
I will probably do best in my new home as an only pet, at least initially. I should not be in a home with cats. I am hesitant at times to get into a car or truck, but once inside I'm not nervous or anxious when riding in the car. I have not been around small/young children in my foster home. Even though I'm very friendly, my enthusiasm might be overwhelming to small children.
I would probably do best if my new home has had a young Doberman in the past. I will also need a fenced yard, an invisible fence is not acceptable for me. Like all puppies, I need a firm, but gentle hand and lots of consistency in my daily schedule and my obedience training.
This is My Story
Dodger ended up needing DAR&E to find him a new home.
---
DAR&E only places within the Maryland, Virginia, Washington DC, Delaware, and in portions of both eastern West Virginia and southern Pennsylvania. Please do no apply to adopt if you live outside of those areas. Please visit our Adoption Process page for additional information on adopting one of our DAR&E Dobermans & an online application!
Our dogs are spayed/neutered, up-to-date on shots and microchipped.
How You Can Help Dodger
A Tax deductible sponsorship gifts of any amount are welcome in support of our orphans.
DAR&E Wear
$15
Step 1 on the road to a forever home is a collar and tag. DAR&E dogs always have a home with us. Support a dog on its first steps by sponsoring the purchase of their collar and tag.
SPONSORS

All sponsorship donations are tax deductible and will be used to care for and for medical treatment for dogs in DAR&E's care. You can sponsor multiple dogs.