Hi, I'm Draco
Status: adopted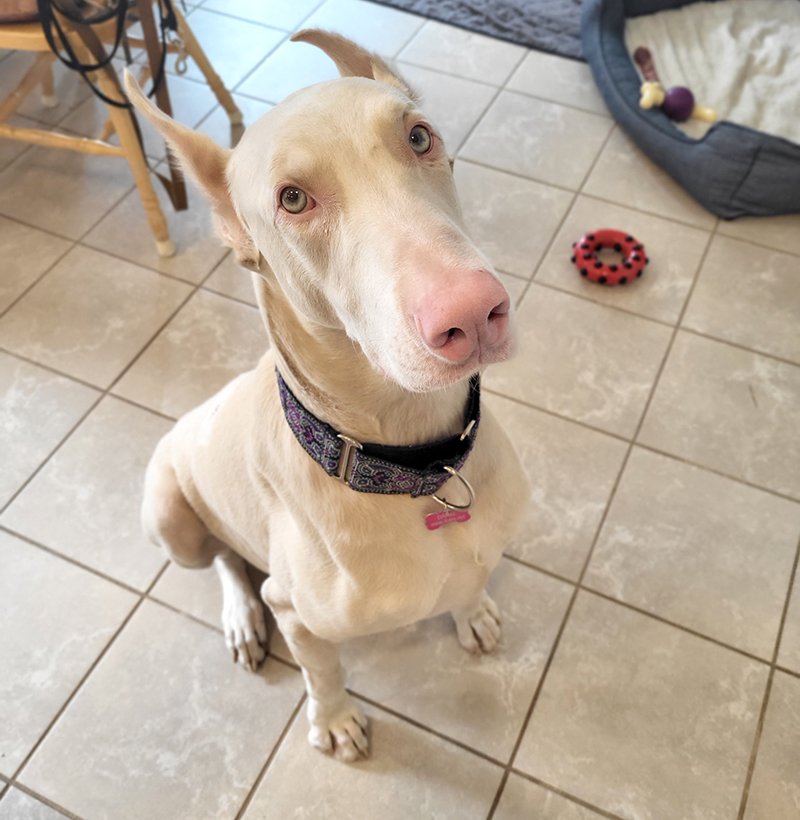 About Draco
Draco (or Drake) is a gorgeous, cream and white Doberman with blue eyes.  He's an energetic 7 yrs old, and a big, tall boy, weighing in at 102 lbs, with a big bark to match his size.
Draco lived with 2 small children and a cat in his former home.  He really loves cats and he enjoys playing with ours.  He also gets along with our small dog, but he can be intimidating to her, bc of his large size, so she really doesn't play back.  He would do well with some cat friends and/or a friendly dog pal to play with.  Draco loads in the car nicely and he seems to enjoy riding places with you.
He is not an excessive barker, but he will alert to strangers/strange dogs on the property.  Draco is crate trained, and does well in the crate.  He's only crated at night and 2 days during the week when we are gone 8 hours for work.  There is an almost brand new wire crate free and available, if needed, for whoever adopts Draco.
Draco would probably do best in a home where he's not home alone a lot.  He does have thunderstorm/firework anxiety, which he has prescription medicine for.
It's easy to fall in love with this big fella, just for his looks, but he also has that silly, gentle, loving, endearing personality you can't help but love.  Draco has a sponsor who will be paying the adoption fee for his new forever family!
This is My Story
Draco's family was moving and couldn't take him with them.
---
DAR&E only places within the Maryland, Virginia, Washington DC, Delaware, and in portions of both eastern West Virginia and southern Pennsylvania. Please do no apply to adopt if you live outside of those areas. Please visit our Adoption Process page for additional information on adopting one of our DAR&E Dobermans & an online application!
Our dogs are spayed/neutered, up-to-date on shots and microchipped.
How You Can Help Draco
A Tax deductible sponsorship gifts of any amount are welcome in support of our orphans.
DAR&E Wear
$15
Step 1 on the road to a forever home is a collar and tag. DAR&E dogs always have a home with us. Support a dog on its first steps by sponsoring the purchase of their collar and tag.
SPONSORS

All sponsorship donations are tax deductible and will be used to care for and for medical treatment for dogs in DAR&E's care. You can sponsor multiple dogs.