Hi, I'm Earl
Status: adopted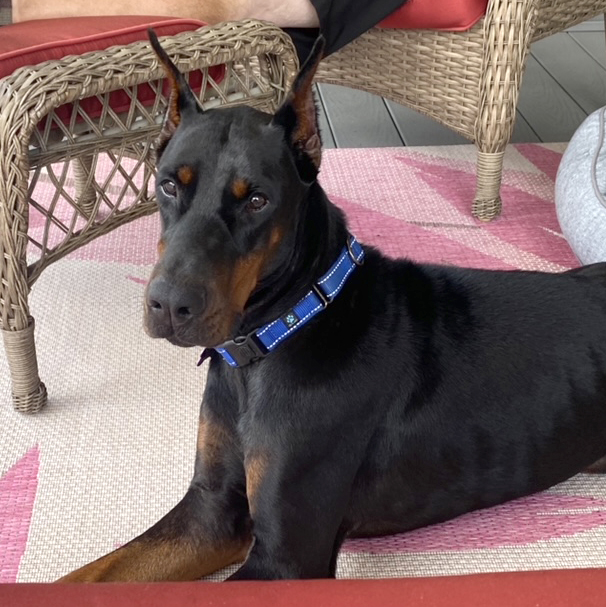 About Earl
Meet Earl – a total love bug! Earl is an easygoing, 2-year-old black & rust, cropped & docked, male Doberman with ginormous paws. He is a real gem! Earl is dog-reactive and will need a home without other dogs.
Earl is a joy to have. He is such a lovebug and a very good boy. He is such a sweetheart. Earl is house-trained and very well-behaved when inside. He does not try to take items around the house that do not belong to him. He could probably be left with run of the house when home alone however I have not tried it for more than an hour at a time. He has a few select toys that he plays with but prefers to rest his head in your lap for head rubs or just lay up against you. He likes lots of attention.
Earl is also crate-trained. Although he has plenty of dog beds to choose from, Earl prefers to lay in his crate or on a rug on the floor. Of his own accord, he has not gotten onto any furniture since I got him.
Earl did wonderful getting a shower and letting me wipe his wet feet before coming inside.
He is very food-motivated. He hasn't tried to take any food off the counters but will follow you around the kitchen when cooking (and eating) hoping to get a bite.
Earl is a total sweetheart. With lots of love and a little training, He will be a fantastic companion.
Earl is currently located in Virginia.
This is My Story
Earl found himself needing DAR&E to find him a new home.
---
DAR&E only places within the Maryland, Virginia, Washington DC, Delaware, and in portions of both eastern West Virginia and southern Pennsylvania. Please do no apply to adopt if you live outside of those areas. Please visit our Adoption Process page for additional information on adopting one of our DAR&E Dobermans & an online application!
Our dogs are spayed/neutered, up-to-date on shots and microchipped.
How You Can Help Earl
A Tax deductible sponsorship gifts of any amount are welcome in support of our orphans.
DAR&E Wear
$15
Step 1 on the road to a forever home is a collar and tag. DAR&E dogs always have a home with us. Support a dog on its first steps by sponsoring the purchase of their collar and tag.
SPONSORS

All sponsorship donations are tax deductible and will be used to care for and for medical treatment for dogs in DAR&E's care. You can sponsor multiple dogs.