Hi, I'm Finn
Status: adopted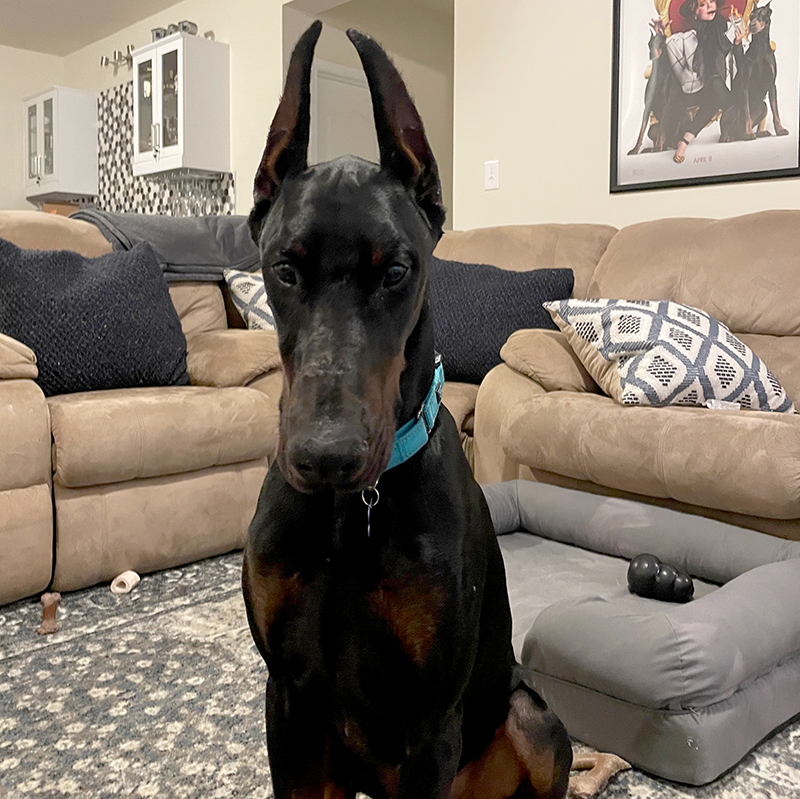 About Finn
Finn is 2-year-old black/rust, cropped and docked male Doberman.  His docked tail is about 6 inches long which is perfect to show how happy he is to be with his people.  Finn came to DAR&E because his owners were moving and unable to take him with them.
Finn knows various commands, but he has little impulse control, so he wants to immediately jump on you or bat you with his paws to get what he wants.  We have been working on this by making him wait until he is given the Release command to eat his food or have access to his favorite toys.  Finn is quick to learn and eager to please, so he is improving, but small children could be easily knocked over and trampled with Finn's enthusiasm.
Finn loves being with his people above all, but also likes chewing on Kongs and hard chew toys.  Finn is very food driven.  In our backyard, he loves to run fast, and to have a ball tossed for him to catch.  On walks, Finn is very alert and wants to check out all the new smells he encounters.  Walks are challenging as he is constantly darting everywhere to ensure he doesn't miss anything, so he will need someone who has the patience to continue working with him.  He is extremely energetic, and wants to play, play and play.  Finn should have a fenced yard so he can get daily exercise since a walk with him is more exercise for the walker not Finn.
Sometimes, Finn will bark at strangers he first meets, but is friendly once he has greeted them.  When meeting dogs, Finn can be overbearing and bossy.  So a home as an only dog would be best for Finn. 
Finn isn't a fan of crates.  He will enter the crate, but after the door is shut he cries to be out with his people and will try to escape the crate.  Luckily Finn has been a gentleman in the house without the crate.  He is housebroken and not destructive when left alone in our "baby-proofed" rec room. 
Finn is a very charming boy who does well with structure. He will thrive in an environment where he is provided consistent boundaries from a firm hand, but with only positive reinforcement.  Finn is looking for someone who is active and willing to include him in their activities.  If you have previous experience owning a Doberman, preferably a male Doberman, contact DAR&E so we can talk about our sweet, lovable Finn.
This is My Story
Finn came to DAR&E because his owners were moving and unable to take him with them.
---
DAR&E only places within the Maryland, Virginia, Washington DC, Delaware, and in portions of both eastern West Virginia and southern Pennsylvania. Please do no apply to adopt if you live outside of those areas. Please visit our Adoption Process page for additional information on adopting one of our DAR&E Dobermans & an online application!
Our dogs are spayed/neutered, up-to-date on shots and microchipped.
How You Can Help Finn
A Tax deductible sponsorship gifts of any amount are welcome in support of our orphans.
DAR&E Wear
$15
Step 1 on the road to a forever home is a collar and tag. DAR&E dogs always have a home with us. Support a dog on its first steps by sponsoring the purchase of their collar and tag.
SPONSORS

All sponsorship donations are tax deductible and will be used to care for and for medical treatment for dogs in DAR&E's care. You can sponsor multiple dogs.