Hi, I'm Franklin
Status: adopted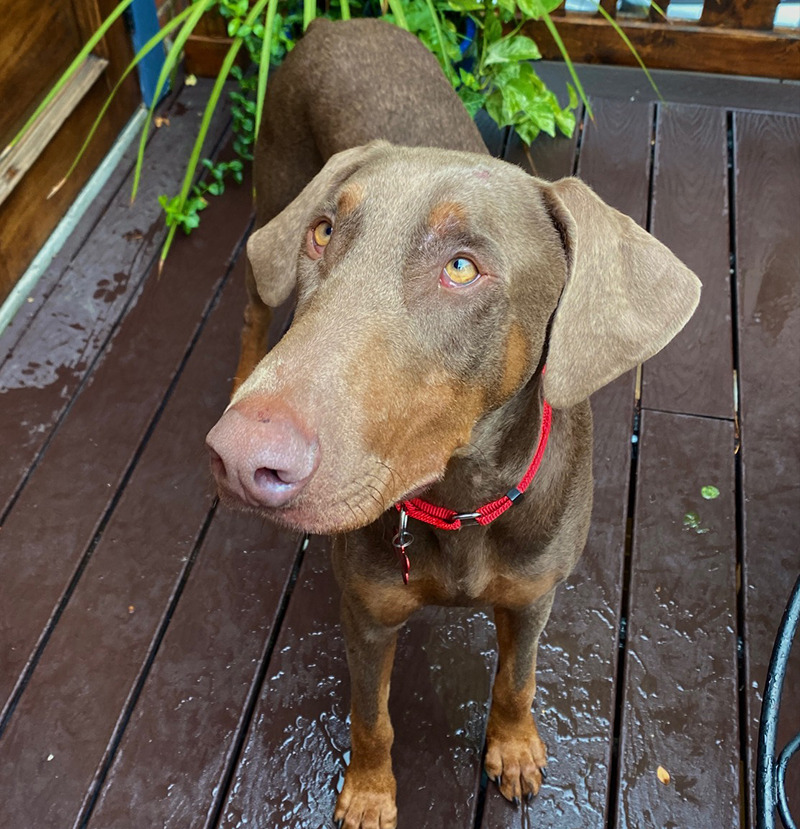 About Franklin
Hi, my name is Franklin! I am a one-year-old male Doberman. I am a beautiful fawn boy with a docked tail and adorable floppy natural ears! I am the sweetest boy, all love and cuddles. I love everyone and am so excited to be with people. I love playing with other dogs and really enjoy running around. I love to play tug of war and chew on bones. One of my favorite things to do is cuddle on the couch with my foster family because I really am a lap dog and I like to be close to my humans whenever they are around. Although I have a healthy amount of energy, I usually put myself to bed on the couch around 7pm which makes my foster family smile. I get along great with other dogs, kids, and cats. 
I am smart, learn very quickly, and have a strong desire to please so I am really looking forward to obedience classes. I am almost fully house trained and will need a bit of work when it comes to crate training, but I learn quickly and have already mastered waiting for my food, sitting, and laying down. I am also good on the leash and like to greet other dogs when I am on walks.
This is My Story
Franklin found himself needing DAR&E to find him a new home.
---
DAR&E only places within the Maryland, Virginia, Washington DC, Delaware, and in portions of both eastern West Virginia and southern Pennsylvania. Please do no apply to adopt if you live outside of those areas. Please visit our Adoption Process page for additional information on adopting one of our DAR&E Dobermans & an online application!
Our dogs are spayed/neutered, up-to-date on shots and microchipped.
How You Can Help Franklin
A Tax deductible sponsorship gifts of any amount are welcome in support of our orphans.
DAR&E Wear
$15
Step 1 on the road to a forever home is a collar and tag. DAR&E dogs always have a home with us. Support a dog on its first steps by sponsoring the purchase of their collar and tag.
SPONSORS

All sponsorship donations are tax deductible and will be used to care for and for medical treatment for dogs in DAR&E's care. You can sponsor multiple dogs.