Hi, I'm Garvey
Status: adopted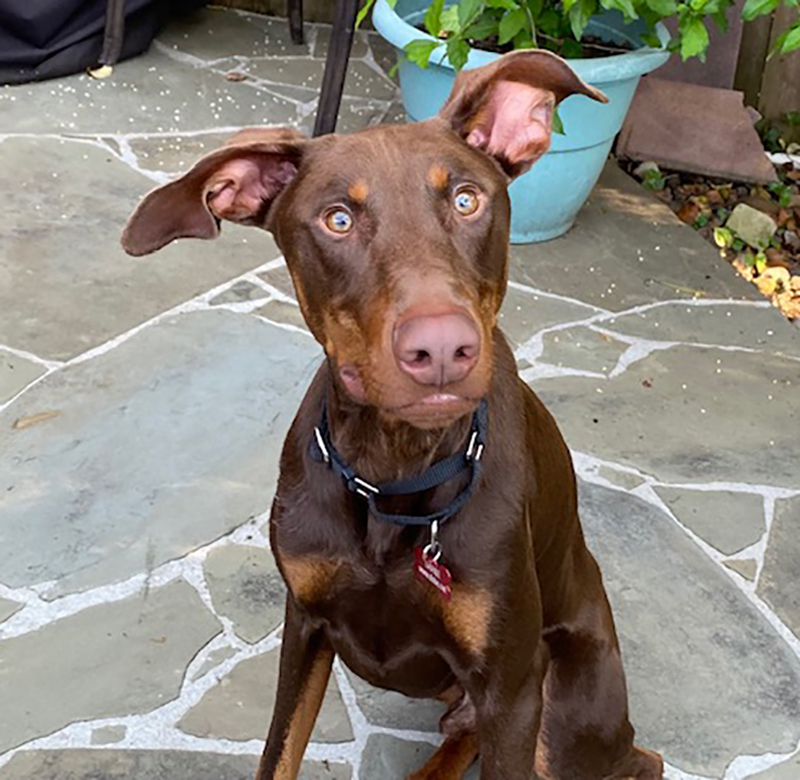 About Garvey
This is Garvey, almost 10 months old, docked tail, and natural ears. Let's talk about these ears. He uses them like little satellite dishes that stand straight up when he's focused on something. Larger than the average floppy ears, but the cutest things you will ever see. For a puppy, Garvey is a really good boy. He doesn't get into trouble as long as he's surrounded by lots of toys. His favorites are ropes and anything he can shake and swing around. He hasn't caught on to the game of fetch yet, but loves to run outside. He has typical puppy energy and will expect you to play with him. 
Garvey is crate-trained and will happily go in for a treat. He is not crated at night. He will sleep on a soft dog bed in your bedroom. Once asleep, he barely moves all night. He loves to sleep in occasionally, if you're an early riser, you may need to get him out of bed for his morning walk. 
Garvey has that adorable puppy curiosity. He's still discovering the smells, sights, and sounds of the world and sometimes things startle him. He walks pretty well on a leash as long as he's wearing a harness. He will try to chase a squirrel, sometimes right up the tree.
He greets other dogs in a friendly, playful way. He's been to a dog park and had a great time, even though the other dogs were a bit boring. He's pretty gentle in his play with smaller dogs and will even let them boss him around. He has no ill will towards cats yet. He met his first cat sitting under a car. He was curious, but  tentative to greet it. When he worked up the courage, he decided it might be someone to play with.
Garvey is a wonderful traveler. Once he figures out how to get in the car (he may need your help), he lies down for the entire trip. 
Garvey came to DAR&E when his owners realized they didn't have time for him. They got him through the tough puppy months now he's a joy to have around. He does need to gain weight. He eats well, but prefers to graze instead of eating a large amount at one time. As everything is still new to him, he will adapt well in any environment, but would definitely want to be where he can play with other dogs. He's too sweet and friendly to be secluded. https://youtube.com/shorts/HFsf4r2V6pg?feature=share
This is My Story
Garvey came to DAR&E when his owners realized they didn't have time for him.
---
DAR&E only places within the Maryland, Virginia, Washington DC, Delaware, and in portions of both eastern West Virginia and southern Pennsylvania. Please do no apply to adopt if you live outside of those areas. Please visit our Adoption Process page for additional information on adopting one of our DAR&E Dobermans & an online application!
Our dogs are spayed/neutered, up-to-date on shots and microchipped.
How You Can Help Garvey
A Tax deductible sponsorship gifts of any amount are welcome in support of our orphans.
DAR&E Wear
$15
Step 1 on the road to a forever home is a collar and tag. DAR&E dogs always have a home with us. Support a dog on its first steps by sponsoring the purchase of their collar and tag.
SPONSORS

All sponsorship donations are tax deductible and will be used to care for and for medical treatment for dogs in DAR&E's care. You can sponsor multiple dogs.