Hi, I'm Gracie
Status: adopted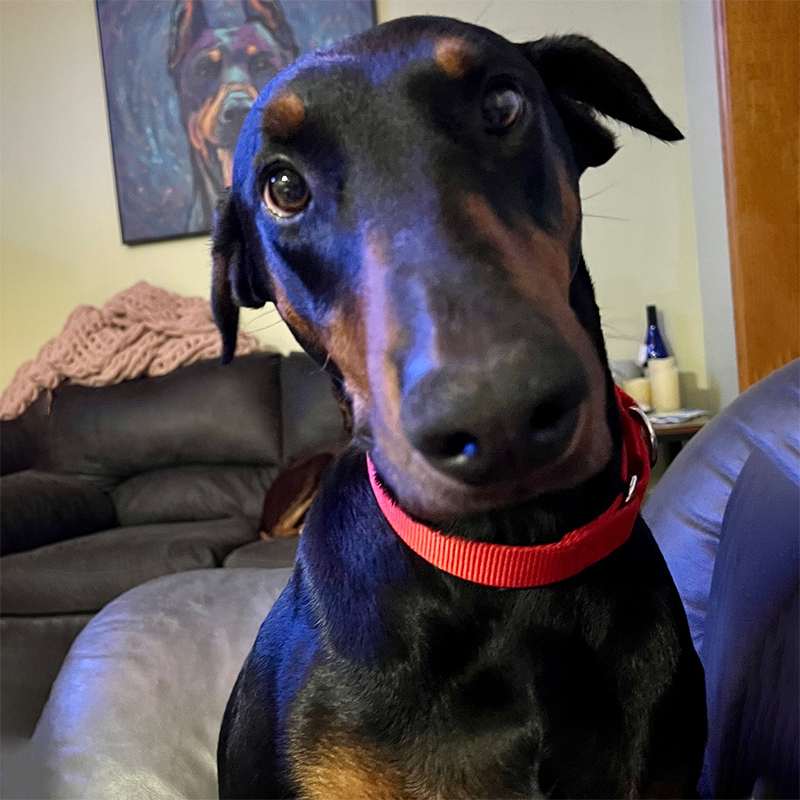 About Gracie
Hi, I'm Gracie and I'm a 3 year old black and tan, beauty with a docked tail and cropped ears that don't stand up. I recently went from a by 82 lbs to a sleek 75 lbs, and boy, do I look great!  My coat is shiny and beautiful and everyone I've met in the last few months has said how pretty I am.  I am house and crate trained and I haven't had one accident in my foster home.
I get along with everyone in my foster home, even a little, old min pin who likes to try to boss me around.  I forgive and forget and you can often find us snuggling together on the couch.  I'm fascinated by the resident cat and I love to sniff his butt and lift him up from under his tummy.  If he runs, I do chase him half-heartedly, but I'm very gentle and I wouldn't hurt him.  I do need a cat who is used to 'handling' big dogs and who won't be afraid when I poke them to initiate play, like they're another doggie friend.  I would be fine living with any sized dog.  
I'm energetic and bouncy in the morning, after all, I'm only 3, but I'm happy to chill with you all day, if you want to.  I love to play, I like chewing on nylabones, and I enjoy stuffed dog toys that squeak.  I do a really cute pitter patter dance when you're preparing my food; I love to eat!  Also, I really enjoy my foster home's large fenced yard and I run the length of it, teasing and play bowing with my foster siblings.  
Now, let's talk about some things you'll need to know if you want to share your life with me.  I'm not a fan of car rides and I don't load well or settle in quickly.  That being said, my foster parents have managed to take me to several routine vet visits and a long distance trip for (2.5hrs) my spay surgery, without incident.
I'm not the best on leash walks, I pull hard, and busy roads, large passing trucks, and loud noises all scare me.  I'm afraid of big changes in my life and I will need a few days before I act semi-comfortable in my new home.  There's no other way to say it, I will need kind, patient, and understanding owners.  In my previous home and in my foster home, my crate is my safe place, and I need it. Sometimes I feel safe on a couch or on a dog bed in the corner though.
Lastly, you don't need Doberman experience to adopt me, I'm a pretty easy going girl once I settle in.  My foster parents have barely ever even heard me bark.  I've only recently begun to follow them around the house, although I love to plaster myself to them when they're sitting down.  Once I love you, I give many little kisses, even up your arms, if you're near me, so I hope you love affection.
This is My Story
Gracie found herself needing DAR&E to find her a new home.
---
DAR&E only places within the Maryland, Virginia, Washington DC, Delaware, and in portions of both eastern West Virginia and southern Pennsylvania. Please do no apply to adopt if you live outside of those areas. Please visit our Adoption Process page for additional information on adopting one of our DAR&E Dobermans & an online application!
Our dogs are spayed/neutered, up-to-date on shots and microchipped.
How You Can Help Gracie
A Tax deductible sponsorship gifts of any amount are welcome in support of our orphans.
DAR&E Wear
$15
Step 1 on the road to a forever home is a collar and tag. DAR&E dogs always have a home with us. Support a dog on its first steps by sponsoring the purchase of their collar and tag.
SPONSORS

All sponsorship donations are tax deductible and will be used to care for and for medical treatment for dogs in DAR&E's care. You can sponsor multiple dogs.