Hi, I'm Gracie
Status: adopted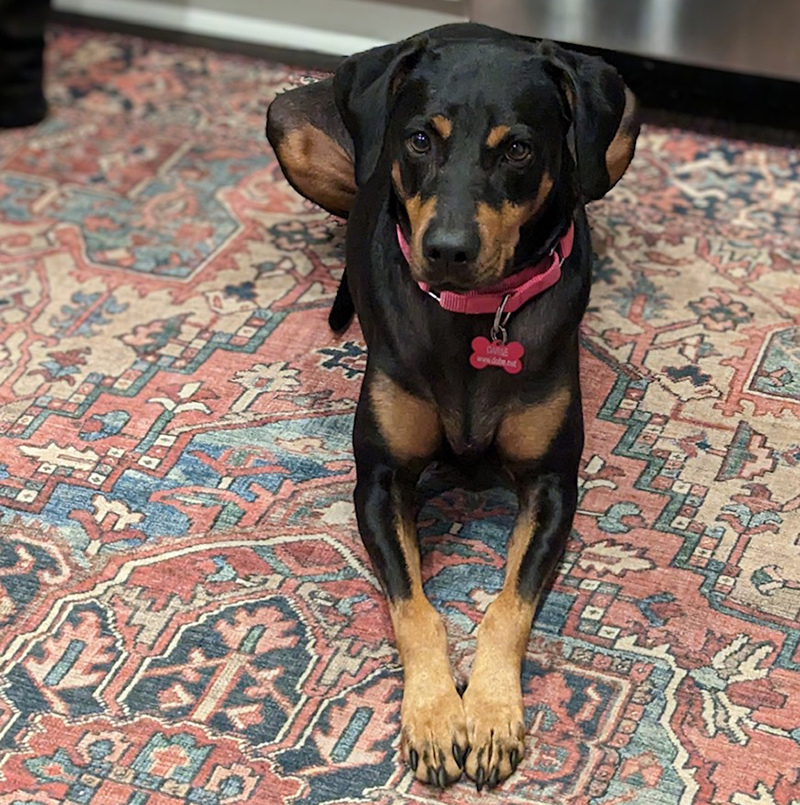 About Gracie
Gracie is a 5 year old completely natural (ears and tail) black/rust little lady. You will not meet a more sweet and devoted dog. Gracie has excellent crate manners, she goes in on command and is very quiet while crated. She is house-trained and will let you know when she needs to go outside. 
Gracie is a shy girl when you first meet her. It takes her several days to settle in to a new place. She is fearful of loud and sudden noises so is definitely not suited to city living. She would do best in a home in a quiet area with a fenced yard. She loves to run in our backyard and prefers to do her business off leash instead of on walks. She does well on leash, not reactive to people or dogs, but does not find joy in going on lots of new adventures. Gracie is a homebody who loves to curl up with you on the couch (and your bed if you'll allow it). She is not very food motivated and takes her time eating her meals.
Gracie is generally a quiet girl, but she will post up at the front window and bark if something looks suspicious to her. Gracie gets along great with other dogs and can be very playful after she gets comfortable with a new dog. Gracie also gets along with our cat, although sometimes she'll try and get him to play. 
Gracie is incredibly eager to please, she gets very attached to her people and loves to be loved on. She likes to get your attention by leaning on you or nudging you with her nose. Gracie is an amazing work-from-home companion as she'll happily lay at your feet while you work.
Gracie is an absolute gem of a dog and is sure to bring lots of joy to you with her amazing and affectionate nature.
This is My Story
Gracie found herself needing DAR&E to find her a new forever loving home.
---
DAR&E only places within the Maryland, Virginia, Washington DC, Delaware, and in portions of both eastern West Virginia and southern Pennsylvania. Please do no apply to adopt if you live outside of those areas. Please visit our Adoption Process page for additional information on adopting one of our DAR&E Dobermans & an online application!
Our dogs are spayed/neutered, up-to-date on shots and microchipped.
How You Can Help Gracie
A Tax deductible sponsorship gifts of any amount are welcome in support of our orphans.
DAR&E Wear
$15
Step 1 on the road to a forever home is a collar and tag. DAR&E dogs always have a home with us. Support a dog on its first steps by sponsoring the purchase of their collar and tag.
SPONSORS

All sponsorship donations are tax deductible and will be used to care for and for medical treatment for dogs in DAR&E's care. You can sponsor multiple dogs.