Hi, I'm Gracie
Status: adopted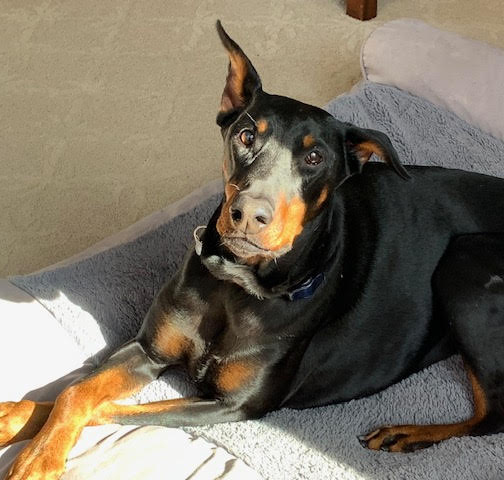 About Gracie
Gracie is a 5 1/2-year-old black/tan female Doberman. Her ears are cropped, docked tail and up to date on all shots. She is extremely lovable, just wants to be with people and has quite the personality. She often likes to have something in her mouth to carry around; ball, toy.
She loves to play and has lots of energy but will place on her bed when her human is tired of playing.
All she wants out of life is to be loved and cared for and to be with people.
Gracie is very gentle when given treats. She is house-trained, crate-trained and knows basic commands (sit, down, come, place, stay, give, leave it, wait, off, in your house is the command to go into the crate). Travels well in the car. She is very smart and wants to please.
It would be best if Gracie was in a home with no other dogs. However, if the other dog is very passive and will tolerate Gracie always wanting to play it could be a good fit. Gracie weighs about 70 pounds so is on the smaller size for a Dobie. She would not do well in an apartment or condo because she barks when she hears noises. Gracie is good with kids and would need a yard where she can run and play. She is invisible fence trained.
Here are some videos of Gracie:

Please help this sweet, affectionate girl who just wants to be loved find a new home. 
This is My Story
Gracie is currently in a home with another female Doberman. The two of them got along fine for a long time but now the larger and older female does not tolerate Gracie anymore. Gracie needs to find a home where she is safe which is the only reason she is looking to be rehomed.
---
DAR&E only places within the Maryland, Virginia, Washington DC, Delaware, and in portions of both eastern West Virginia and southern Pennsylvania. Please do no apply to adopt if you live outside of those areas. Please visit our Adoption Process page for additional information on adopting one of our DAR&E Dobermans & an online application!
Our dogs are spayed/neutered, up-to-date on shots and microchipped.
How You Can Help Gracie
A Tax deductible sponsorship gifts of any amount are welcome in support of our orphans.
DAR&E Wear
$15
Step 1 on the road to a forever home is a collar and tag. DAR&E dogs always have a home with us. Support a dog on its first steps by sponsoring the purchase of their collar and tag.
SPONSORS

All sponsorship donations are tax deductible and will be used to care for and for medical treatment for dogs in DAR&E's care. You can sponsor multiple dogs.