Hi, I'm Halo
Status: adopted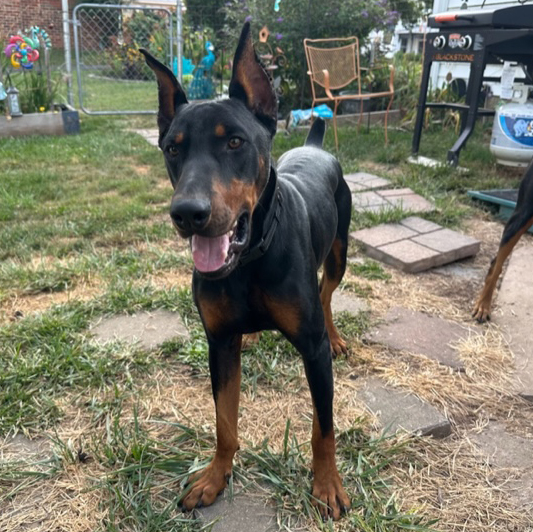 About Halo
Hi! My name is Halo, I'm about a year old and weigh about 70 pounds. I am a black and tan male with cropped ears and a docked tail. My foster mom says I'm very sweet and handsome. I'm still a little underweight from my previous life but I love to eat and will soon be at a good weight. My foster mom says I ride well in the car and that I don't pull too badly on the leash. I wasn't too sure about my foster siblings at first. I didn't really know how to play with them but now I love running in the yard and playing with them. 
I really like my cool new toys, especially my squeaky balls. I like to carry one around with me. I don't like sharing my food or my toys with other dogs.
I am pretty well-behaved in the house. I don't have any accidents. I'm good to hang out in my crate while my foster mom is at work. I mostly stay off the furniture and I don't chew on things that are not mine. I'm really curious about everything, especially anything up high so I like to stand up to see what people have or what is on the counter. My foster mom says I really need to stop that so we are working on that.  I probably need a new home with someone who is familiar with Dobermans like me and will continue my training so I can be even better than I am now. I get a little rambunctious and over-excited sometimes when I play so I need to work on that too. I really like treats and they help me learn. I'm also pretty active and like to run in the yard or go for walks so I hope my new home likes that too.
If you think I would fit in your life please get in touch. I'm really excited for a new forever home!
This is My Story
Halo found himself needing DAR&E to find him a new home.
---
DAR&E only places within the Maryland, Virginia, Washington DC, Delaware, and in portions of both eastern West Virginia and southern Pennsylvania. Please do no apply to adopt if you live outside of those areas. Please visit our Adoption Process page for additional information on adopting one of our DAR&E Dobermans & an online application!
Our dogs are spayed/neutered, up-to-date on shots and microchipped.
How You Can Help Halo
A Tax deductible sponsorship gifts of any amount are welcome in support of our orphans.
DAR&E Wear
$15
Step 1 on the road to a forever home is a collar and tag. DAR&E dogs always have a home with us. Support a dog on its first steps by sponsoring the purchase of their collar and tag.
SPONSORS

All sponsorship donations are tax deductible and will be used to care for and for medical treatment for dogs in DAR&E's care. You can sponsor multiple dogs.