Hi, I'm Harper
Status: adopted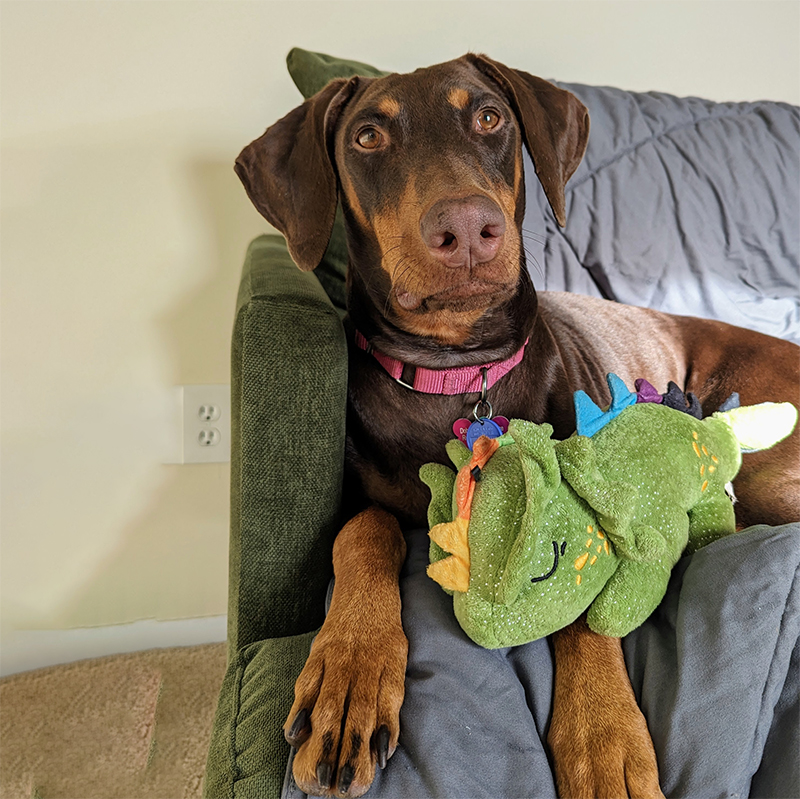 About Harper
Harper is a very loving, affectionate, and friendly red girl. She is a lap dog who loves to cuddle and give kisses. She'll be 3 years old in February and has natural ears and a docked tail. Harper absolutely loves going on walks but will need a lot of training to learn not to pull. She's a strong girl who is high energy on leash. She has not been reactive to people or dogs, just very eager to be out and about. At home, she is an alert girl who is protective of her yard and house. 
Harper gets along well with other dogs and is being fostered with a male Doberman puppy. She's patient with his puppy ways and is a very adaptable girl. While Harper can be very energetic on a leash, she loves to relax and lounge around the house.  
Harper is always eager to meet new people. She has wonderful manners but is guaranteed to climb into your lap when you're sitting in a comfortable chair. She is a classic Dobie leaner and loves having the area right above her nub scratched. 
Harper is crate-trained and house-trained. She's not had any accidents in our house or her crate and has learned to go in her crate on command. She has great crate manners; she is quiet and not destructive. She has been sleeping quietly through the night in her crate until we wake her up. Harper does not have any separation anxiety and is happy to take a nap in her crate when we step out of the house to run errands.
Harper can be a slow and picky eater at first. In a new setting, it may take several days for her to start eating regular amounts of food and a few attempts at finding what she will happily eat. 
Harper can be a bit cautious at times but has consistently taken to new things well with us. She loves having tennis balls and plush toys to play with. Harper rides well in the car and would be a very willing companion for hiking adventures and road trips! Harper is located in Maryland. 
This is My Story
Harper found herself needing DAR&E to find her a new furever home.
---
DAR&E only places within the Maryland, Virginia, Washington DC, Delaware, and in portions of both eastern West Virginia and southern Pennsylvania. Please do no apply to adopt if you live outside of those areas. Please visit our Adoption Process page for additional information on adopting one of our DAR&E Dobermans & an online application!
Our dogs are spayed/neutered, up-to-date on shots and microchipped.
How You Can Help Harper
A Tax deductible sponsorship gifts of any amount are welcome in support of our orphans.
DAR&E Wear
$15
Step 1 on the road to a forever home is a collar and tag. DAR&E dogs always have a home with us. Support a dog on its first steps by sponsoring the purchase of their collar and tag.
SPONSORS

All sponsorship donations are tax deductible and will be used to care for and for medical treatment for dogs in DAR&E's care. You can sponsor multiple dogs.