Hi, I'm Heidi
Status: adopted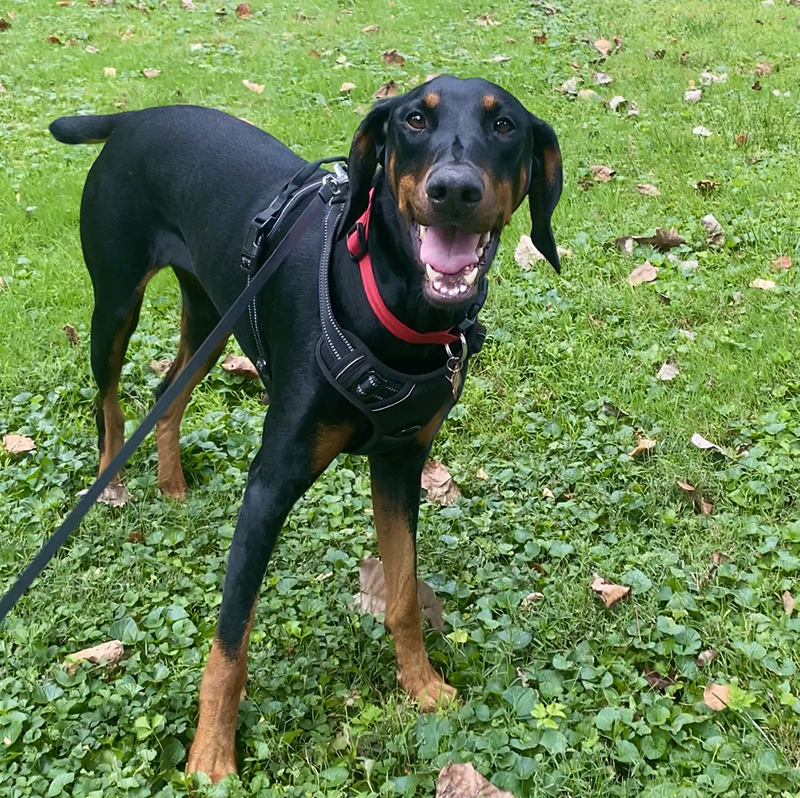 About Heidi
Heidi is an affectionate, trusting, and playful 2-year-old medium-sized black female with natural ears and a short tail. 
At home, Heidi is a big lap dog. She loves to spend most of the day relaxing on the sofa, and with her head resting against you. She will follow you dotingly wherever you lead and likes to sleep nearby on her dog bed overnight.
House-trained with good manners, she has no problem with grooming, medication, or sharing food/toys. She knows basic obedience commands and is very eager to please. Despite seeing a lot of change in her life, Heidi still has such a sweet, gentle personality.
Heidi doesn't like to be left alone much. Similarly, she doesn't mind spending time in the crate with a bone, but she prefers not to be left in there. Therefore, she'd prefer someone who is home most of the day or has other dogs to keep her company. 
Outside the home, Heidi loves exploring new places. She rides well in the car. She can pull on a short leash but is well-behaved and is mindful on a long leash or in the yard, showing evidence of prior training. She would make a good running partner, having done 5k runs very happily with her foster. That said, her energy levels are very manageable.
Heidi previously lived with a female dog and she is friendly and playful with other dogs. She can be intimidated by overly energetic groups of dogs but does not show aggression.
Heidi is friendly with visitors and neighbors but can be a little cautious in the beginning. Although friendly with children, she can be taken aback by loud noises. 
Heidi is looking for a forever home that will give her plenty of companionship and affection, in addition to a safe space to build on her confidence and training. Heidi is in Washington DC.
This is My Story
Heidi found herself needing DAR&E to find her a new furever home.
---
DAR&E only places within the Maryland, Virginia, Washington DC, Delaware, and in portions of both eastern West Virginia and southern Pennsylvania. Please do no apply to adopt if you live outside of those areas. Please visit our Adoption Process page for additional information on adopting one of our DAR&E Dobermans & an online application!
Our dogs are spayed/neutered, up-to-date on shots and microchipped.
How You Can Help Heidi
A Tax deductible sponsorship gifts of any amount are welcome in support of our orphans.
DAR&E Wear
$15
Step 1 on the road to a forever home is a collar and tag. DAR&E dogs always have a home with us. Support a dog on its first steps by sponsoring the purchase of their collar and tag.
SPONSORS

All sponsorship donations are tax deductible and will be used to care for and for medical treatment for dogs in DAR&E's care. You can sponsor multiple dogs.