Hi, I'm Honeydew
Status: adopted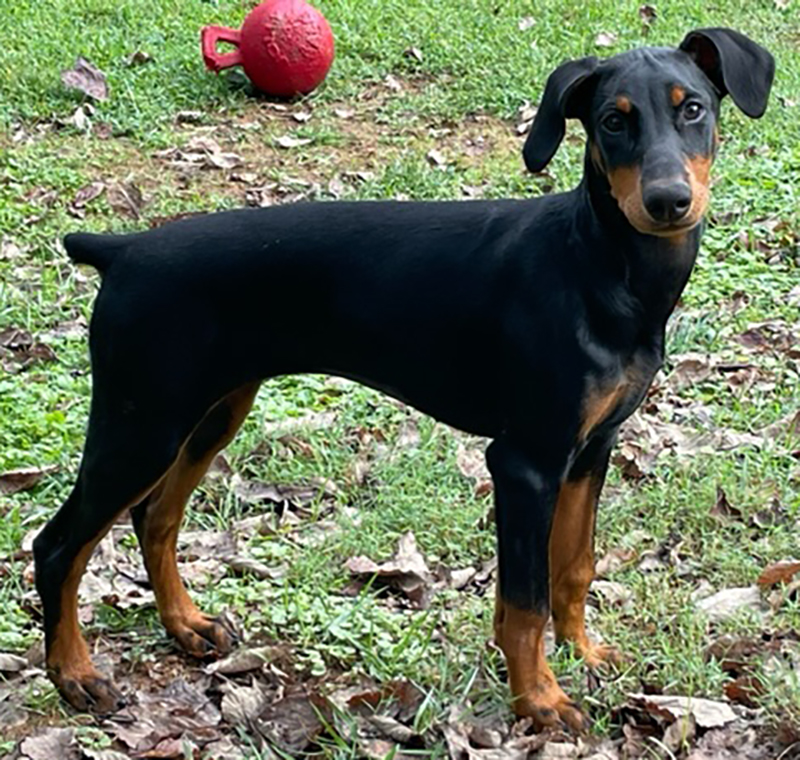 About Honeydew
Honeydew is a 12 week old, black/rust adorable Dobie pup. She is very affectionate and loves people and playing with other dogs. She's a smart cookie and already knows "sit" and is crate-trained.
She'll fuss a bit in the crate at first but within a couple minutes she will settle quietly. Honeydew considers anything on the floor or within her reach to be hers. She's easily redirected onto something that is more appropriate for a puppy to play with.
She will require a physical fence (no e-fences, no exceptions) so that she can get out and stretch her legs and get LOTS of exercise. A tired puppy is a happy puppy (and owner!).
I'm in the process of house-training her and she'll need to be taken out to potty on a schedule. She's a quick study and will pick this up in no time.
Little Miss Honeydew is looking for a family who is ready to commit to working with her and teaching her the ways of the world.
This is My Story
DAR&E found Honeydew in a shelter and is finding her a Forever home.
---
DAR&E only places within the Maryland, Virginia, Washington DC, Delaware, and in portions of both eastern West Virginia and southern Pennsylvania. Please do no apply to adopt if you live outside of those areas. Please visit our Adoption Process page for additional information on adopting one of our DAR&E Dobermans & an online application!
Our dogs are spayed/neutered, up-to-date on shots and microchipped.
How You Can Help Honeydew
A Tax deductible sponsorship gifts of any amount are welcome in support of our orphans.
DAR&E Wear
$15
Step 1 on the road to a forever home is a collar and tag. DAR&E dogs always have a home with us. Support a dog on its first steps by sponsoring the purchase of their collar and tag.
SPONSORS

All sponsorship donations are tax deductible and will be used to care for and for medical treatment for dogs in DAR&E's care. You can sponsor multiple dogs.