Hi, I'm Iris
Status: available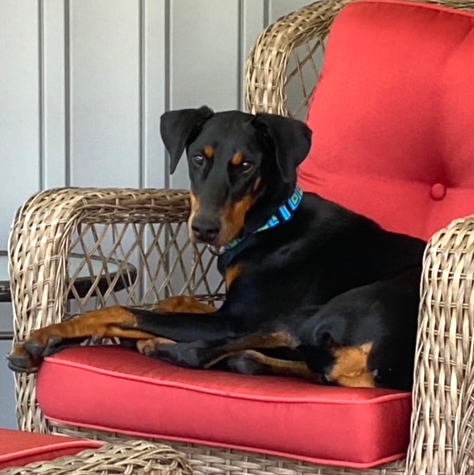 About Iris
Iris is a 9-month-old black and tan female with natural ears and a docked tail. (She requires a fully fenced yard, no e-fences). She currently weighs about 40 pounds but is still growing. Iris is a sweet and friendly girl who is well-behaved with puppy energy.
Iris rides well in the car, likes to stick her head out the window to feel the breeze, and waits to get out. She is housebroken and has good house manners. She likes to play with her squeaky ball or other toys. She stays quietly in her crate while I'm at work but is fussy if she's in the crate when I'm home. She is so excited and squiggly when I come to let her out. I've had no issues with her being out of the crate when I can watch her or overnight.
Iris is very protective of her home but hasn't yet learned what is friend or foe so she barks at everything she sees and hears. She will pull on the leash when walking but was well-behaved in the pet store. She does want to jump on people she meets but is friendly with everyone she meets. She has done well with my dogs but is unknown with cats or small animals.
Iris is a sweet, silly, happy girl looking for her forever home. Iris is located in Virginia.
This is My Story
Iris found herself needing DAR&E to find her a new forever home.
---
DAR&E only places within the Maryland, Virginia, Washington DC, Delaware, and in portions of both eastern West Virginia and southern Pennsylvania. Please do no apply to adopt if you live outside of those areas. Please visit our Adoption Process page for additional information on adopting one of our DAR&E Dobermans & an online application!
Our dogs are spayed/neutered, up-to-date on shots and microchipped.
How You Can Help Iris
A Tax deductible sponsorship gifts of any amount are welcome in support of our orphans.
DAR&E Wear
$15
Step 1 on the road to a forever home is a collar and tag. DAR&E dogs always have a home with us. Support a dog on its first steps by sponsoring the purchase of their collar and tag.
SPONSORS

All sponsorship donations are tax deductible and will be used to care for and for medical treatment for dogs in DAR&E's care. You can sponsor multiple dogs.