Hi, I'm Jax
Status: adopted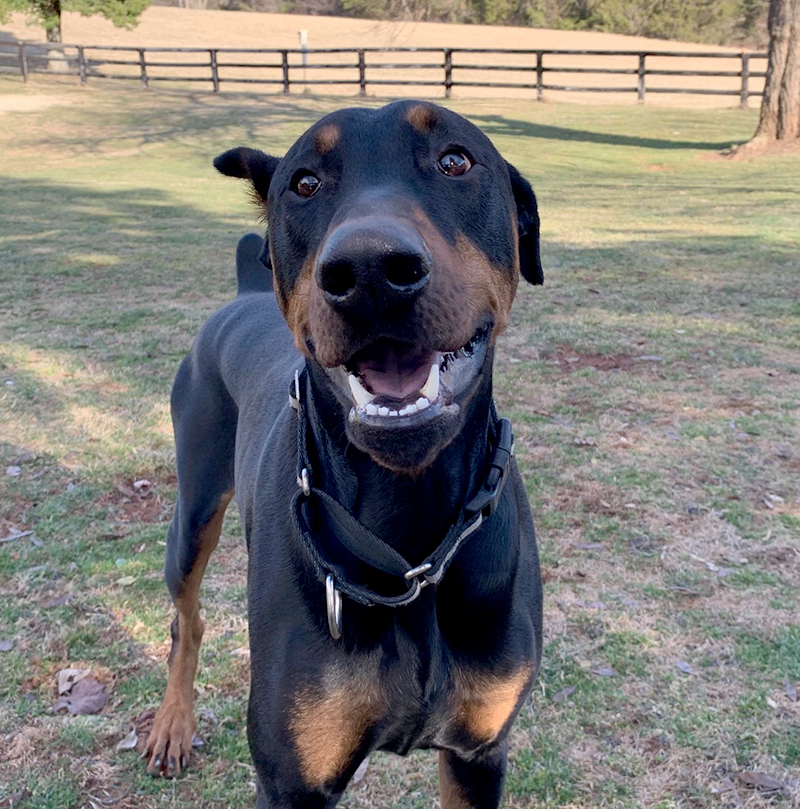 About Jax
Jax is a 1 1/2 years old black/tan male Doberman. He came to DAR&E because his owner was having a child and wasn't able to meet his exercise and attention demands.  Jax weighs about 80 lbs. He has a docked tail and cropped ears that stand sometimes and sometimes they don't. Jax is a very sweet boy who wants to please you. He is still very much a puppy so his attention span is quite short, but Jax is very smart and knows most of his basic obedience commands. You just need to get his attention first 🙂 Jax is house and crate trained. He has an active mind and body so it's best to secure him in a crate when he isn't being supervised so he doesn't get into mischief. 
Jax LOVES to run so a good-sized fenced yard for him to run in is a must. Jax likes to start his day by running laps around the yard. Jax will play a little fetch although he is easily distracted by birds flying by or the sound of passing cars.
Check out his video:

Jax can be a little mouthy when he plays and he doesn't understand how much space he takes up, but a little patience and consistent guidance will help him mature into a super nice dog.  
Jax is a sweet boy that has a lot of potential.  If you are an active person and have the time and energy for a young energetic Doberman, Jax may be a good match for you.
This is My Story
Jax found himself needing DAR&E to find him a new home.
---
DAR&E only places within the Maryland, Virginia, Washington DC, Delaware, and in portions of both eastern West Virginia and southern Pennsylvania. Please do no apply to adopt if you live outside of those areas. Please visit our Adoption Process page for additional information on adopting one of our DAR&E Dobermans & an online application!
Our dogs are spayed/neutered, up-to-date on shots and microchipped.
How You Can Help Jax
A Tax deductible sponsorship gifts of any amount are welcome in support of our orphans.
DAR&E Wear
$15
Step 1 on the road to a forever home is a collar and tag. DAR&E dogs always have a home with us. Support a dog on its first steps by sponsoring the purchase of their collar and tag.
SPONSORS

All sponsorship donations are tax deductible and will be used to care for and for medical treatment for dogs in DAR&E's care. You can sponsor multiple dogs.