Hi, I'm JD
Status: adopted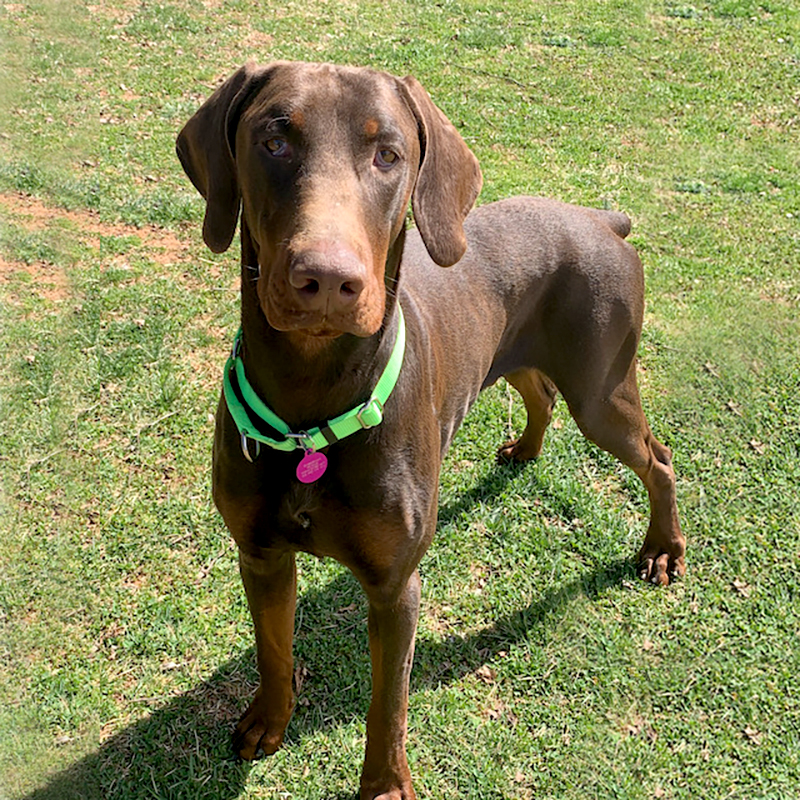 About JD
Meet JD! JD is a very sweet natured, affectionate boy. He wants to be everyone's buddy. JD gets very excited when his people come home and bounds around like a bull in a china shop for a couple minutes and then he is ready to lay at your feet and be petted. He is a such a love bug!
JD does not have any food aggression. You can take food away, toys, etc. He doesn't mind you playing with his feet, looking at his teeth, etc. JD just wants to love and be loved.
Check out JD's video. It pretty much tells the story about who JD is.
JD is a 1 1/2 years old average sized male doberman. He weigh about 80 LBs but could put on another 5 lbs to be at a good weight. He was left at a shelter by his owners because they said they didn't know Dobermans got so big.  I guess they did not do their research!
JD is red and rust with natural ears and a docked tail. He has beautiful coloring with dark mahogany markings. While JD looks like an 80 lb almost adult Doberman, in his mind he is still that adorable little puppy who just wants to play and be loved.
JD loves his toys. He always grabs something to carry out side with him. He isn't much on playing fetch he just loves having the toys and what ever else he can grab. Check out the picture where he stole my husband's hat. He was so proud himself! That's JD! Always clowning around. Most of all JD just wants to be with his people. He gets bored when alone and will go exploring and may rearrange furniture cushions, pillows, whatever is handy.
JD is house and crate trained. To keep JD out of mischief when alone, his adopter should have a nice big crate for him to hang out in. He goes into his crate readily for a food bribe and does no fuss. He sleeps in his crate quietly at night. He knows a few basic commands but should be enrolled in a training class soon after adoption so he can learn the finer points of walking nicely on a leash and works on his impulse control a bit. Since his leash manners aren't great yet a fenced yard would be a good thing to have. If you have time, patience and energy for a young male Doberman, contact DAR&E so we can talk more about JD.  JD is a sweet boy looking for love.
This is My Story
JD was surrendered to a shelter because his owners didn't realize he would get so big.
---
DAR&E only places within the Maryland, Virginia, Washington DC, Delaware, and in portions of both eastern West Virginia and southern Pennsylvania. Please do no apply to adopt if you live outside of those areas. Please visit our Adoption Process page for additional information on adopting one of our DAR&E Dobermans & an online application!
Our dogs are spayed/neutered, up-to-date on shots and microchipped.
How You Can Help JD
A Tax deductible sponsorship gifts of any amount are welcome in support of our orphans.
DAR&E Wear
$15
Step 1 on the road to a forever home is a collar and tag. DAR&E dogs always have a home with us. Support a dog on its first steps by sponsoring the purchase of their collar and tag.
SPONSORS

All sponsorship donations are tax deductible and will be used to care for and for medical treatment for dogs in DAR&E's care. You can sponsor multiple dogs.