Hi, I'm Joplin
Status: adopted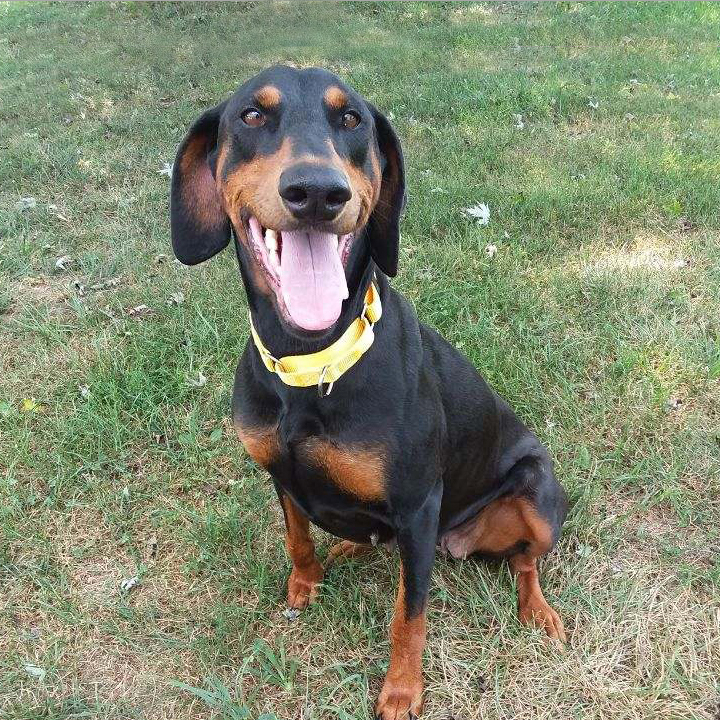 About Joplin
Joplin is a beautiful, black and tan, 4 year old Dobie with natural ears and a docked tail. She is very loving and I have really enjoyed having her with me.
Joplin is completely house trained.  When she first came I had her sleep in her crate but now she usually sleeps in my room or in a chair in the family room.
Joplin does not immediately accept new things, i.e. people, dogs but I have had no problems getting her acquainted with new visitors that come to the house.  She craves attention from everyone.
She has learned to play, which she didn't do when she first came to me.  She is most comfortable with smaller dogs.  Large male dogs frighten her.  Joplin needs time to feel comfortable with new dogs.  Not sure what her history is but know that she has produced several litters.  Perhaps that's why she prefers females and small dogs over large male dogs.  She is very good with the resident Pug and plays with the Westie.
I have introduced Joplin to my outside cat.  She is interested but not aggressive.  For adopter who has patience and would be willing to work with Joplin, I think she would do ok with cats.  My cat is an indoor/outdoor cat and is not always around.
I am able to trim her nails without fuss.  She has no food aggressions.  Joplin has gotten better with her recall and obedience.
If you want a dog who loves to lay at your feet with her stuffed animals and go for walks, Joplin is your girl.
This is My Story
---
DAR&E only places within the Maryland, Virginia, Washington DC, Delaware, and in portions of both eastern West Virginia and southern Pennsylvania. Please do no apply to adopt if you live outside of those areas. Please visit our Adoption Process page for additional information on adopting one of our DAR&E Dobermans & an online application!
Our dogs are spayed/neutered, up-to-date on shots and microchipped.
How You Can Help Joplin
A Tax deductible sponsorship gifts of any amount are welcome in support of our orphans.
DAR&E Wear
$15
Step 1 on the road to a forever home is a collar and tag. DAR&E dogs always have a home with us. Support a dog on its first steps by sponsoring the purchase of their collar and tag.
SPONSORS

All sponsorship donations are tax deductible and will be used to care for and for medical treatment for dogs in DAR&E's care. You can sponsor multiple dogs.