Hi, I'm Joplin
Status: available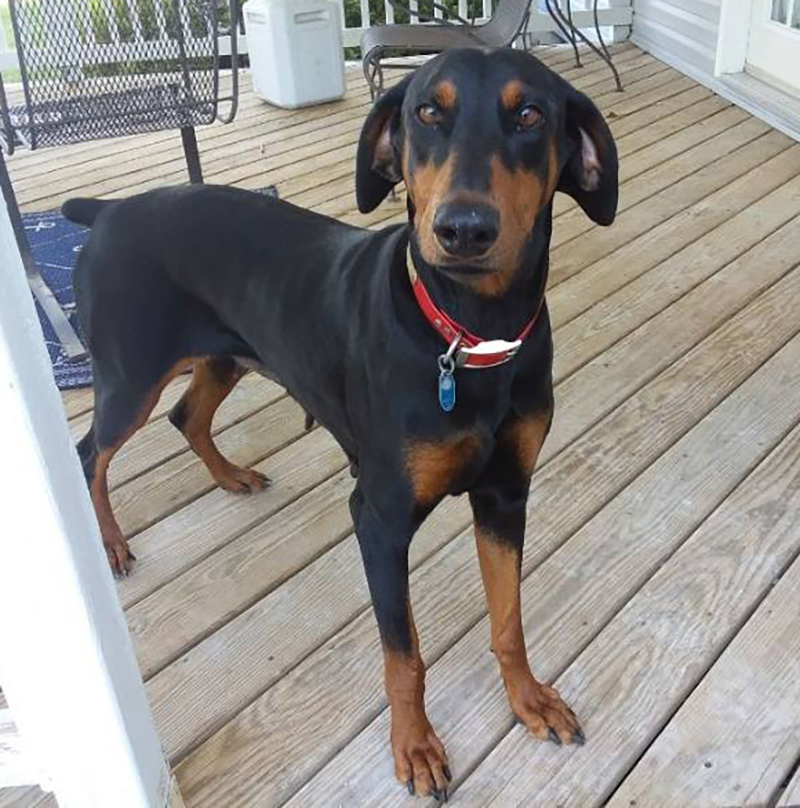 About Joplin
Joplin is a beautiful black and tan 4 yr old Doberman who came from a shelter in Virginia.  She has natural ears and a docked tail. She has had several litters of puppies. 
Joplin is extremely affectionate with people. She does want some time to settle in first and develop a relationship with you before hugging and snuggling with her. Then she will become your constant companion.
Joplin loves her soft toy "babies" and carries them everywhere with her! It is super cute. She carries them in and out of her crate, and really loves being in her crate. She gets a little nervous when you leave the house, but feels secure when in her crate and she is fully crate trained.
Joplin enjoys being outside as long as her human is with her. She will try to sneak out the door ahead of you.
She can be anxious when in the company of other dogs. She appears to be dog selective and might be better placed as an only dog.  She has seen the resident cat and barked at him but at this point is not over the top crazy when she sees a cat. 
Once you have gotten to the point where Joplin is comfortable in her new home, she is one of the most loving fosters I've ever had.
This is My Story
---
DAR&E only places within the Maryland, DC, West Virginia and Virginia area. Please do no apply to adopt if you live outside of those areas. Please visit our Adoption Process page for additional information on adopting one of our DAR&E Dobermans & an online application!
Our dogs are spayed/neutered, up-to-date on shots and microchipped.
How You Can Help Joplin
A Tax deductible sponsorship gifts of any amount are welcome in support of our orphans.
DAR&E Wear
$15
Step 1 on the road to a forever home is a collar and tag. DAR&E dogs always have a home with us. Support a dog on its first steps by sponsoring the purchase of their collar and tag.
SPONSORS

All sponsorship donations are tax deductible and will be used to care for and for medical treatment for dogs in DAR&E's care. You can sponsor multiple dogs.