Hi, I'm Jude
Status: adopted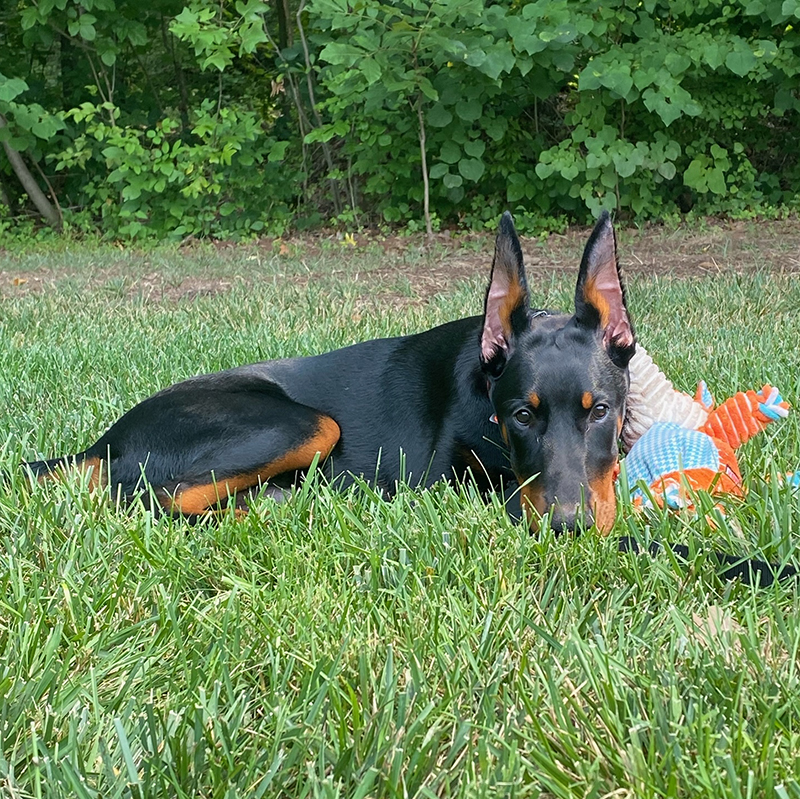 About Jude
Meet Jude, a playful, energetic, 5-month-old black and rust male Doberman puppy. Jude has a docked tail and cropped ears and weighs approximately 40 pounds. His ears were not posted consistently previously, but we have been posting them for the past few weeks. His ears are starting to stand better on their own, but they will need more postings in the future to make sure they continue to stand. Jude will also sit nicely to get his nails trimmed by a Dremel with a little help from some peanut butter. Since Jude is still a puppy, he does require a fenced in yard (not an e-fence).
Jude is crate-trained and does great in the crate. He doesn't whine, bark, or paw to try to get out. He is starting to learn what "crate" means and is starting to go into the crate before I throw a treat in. He's learning! He sleeps in his crate with a few of his favorite toys all night without any issues. He likes to sleep on his back with his paws in the air! Jude is crated when I leave the house and he enjoys a Kong with frozen peanut butter when I leave for work in the mornings.
Jude is still learning about potty training. He has had a few accidents in the house so future potty training is essential to make sure that he grasps the concept. He is also learning many new commands such as sit, platz (down), here, shake, and leave it. I have focused on the "leave it" command because Jude loves to explore the yard and eat grass, dirt/mud, twigs, leaves, and anything else of interest to him. He also loves to grab socks and other items that are in his reach. When Jude gets the zoomies, we go outside so he can chase after tennis balls and use up all that puppy energy that he has.
Jude loves his stuffed animals, especially his snake, which he will drag around the house. He has a cute habit of laying on his back, holding his toy with his front paws up in the air while he chews on it. We have taken a few trips to the pet store and vet's office where everyone fell in love with him. Well, who wouldn't!! At the vet he laid on the floor nicely while waiting to see the doctor.
 Jude is a total sweetheart. With patience, love, and the proper training Jude will grow up to be a great companion. Jude is currently located in Virginia.
This is My Story
---
DAR&E only places within the Maryland, Virginia, Washington DC, Delaware, and in portions of both eastern West Virginia and southern Pennsylvania. Please do no apply to adopt if you live outside of those areas. Please visit our Adoption Process page for additional information on adopting one of our DAR&E Dobermans & an online application!
Our dogs are spayed/neutered, up-to-date on shots and microchipped.
How You Can Help Jude
A Tax deductible sponsorship gifts of any amount are welcome in support of our orphans.
DAR&E Wear
$15
Step 1 on the road to a forever home is a collar and tag. DAR&E dogs always have a home with us. Support a dog on its first steps by sponsoring the purchase of their collar and tag.
SPONSORS

All sponsorship donations are tax deductible and will be used to care for and for medical treatment for dogs in DAR&E's care. You can sponsor multiple dogs.