Hi, I'm Kane
Status: adopted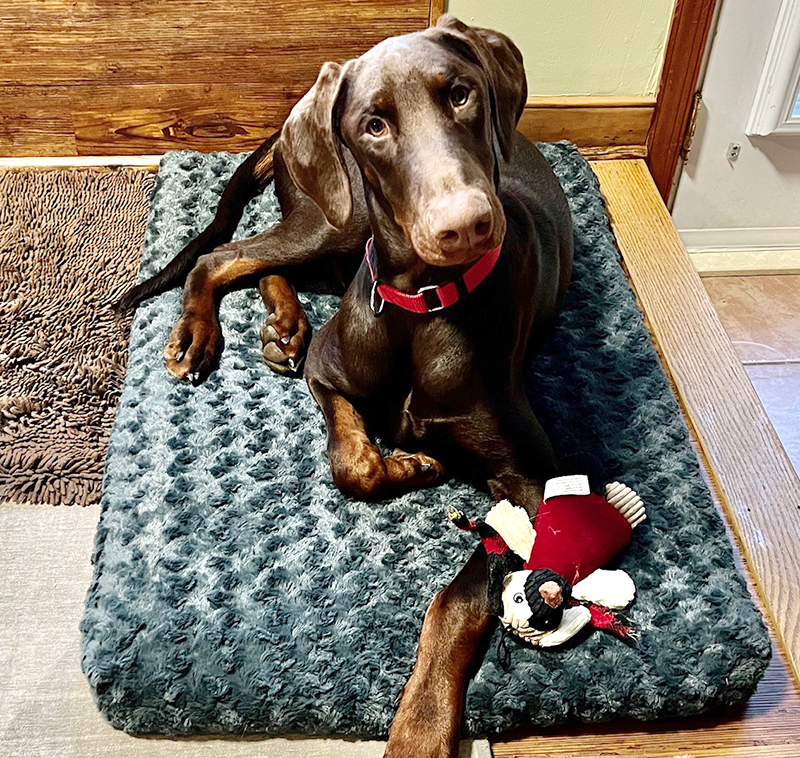 About Kane
Kane is a 7 month old, dark red, all natural, Doberman who is looking for a loving home, preferably with at least 1 dog friend to play with. He is currently in foster care with a small dog and a cat and he really enjoys the company of both.  He also really loves to play with all kinds of toys and bones and will entertain himself.  Kane absolutely loves to meet new people and it seems he cannot get enough of that experience.  I've been taking him to work, where he meets new people several times a day and he loves them all, young and old. Because Kane is under 1 year old, we require a fully fenced yard.
In all our years of fostering, Kane has to be one of the easiest dogs we've fostered.  He walked in our home like he was already familiar and made instant friends with our pets.  What's so amazing about that is, his former owner said he'd never met a small dog or a cat before.  He lived with 2 pit bull mixes and he really enjoyed their rough playing in the backyard.
Kane is very respectful of our small dogs size and space, but they still run like crazy playing around the yard.  Our cat is teaching Kane about life with cats.  Kane is curious, but respectful, and the cat lets him know with a hiss when he's poking him or licking him too much and then Kane loses interest.
He already knows most basic obedience, he can sit, shake, down, stay, heel, he's very food and toy motivated and he learns quickly.  He is perfectly house trained and hasn't had an accident in the house.  Kane's former owner said he doesn't like to crate and that it would take him close to an hour to settle down in the crate.
We haven't crated him and we've left him alone with the pets in the house and alone my office for up to a few hours and he hasn't disturbed anything or shown any anxiety.  He sleeps on a dog bed on the floor in our room, even though, the former owner said he slept in the bed with her.
Kane rides in the car well, I did have to coax him in to load in different vehicles with his squeaky toy, but in a few days, he had the routine down.  There are so many more wonderful things we can say about Kane and we hope to get the chance to speak with you to see if he would be a good match.
This is My Story
Kane's owner couldn't keep Kane, and asked DAR&E to find him a new home.
---
DAR&E only places within the Maryland, Virginia, Washington DC, Delaware, and in portions of both eastern West Virginia and southern Pennsylvania. Please do no apply to adopt if you live outside of those areas. Please visit our Adoption Process page for additional information on adopting one of our DAR&E Dobermans & an online application!
Our dogs are spayed/neutered, up-to-date on shots and microchipped.
How You Can Help Kane
A Tax deductible sponsorship gifts of any amount are welcome in support of our orphans.
DAR&E Wear
$15
Step 1 on the road to a forever home is a collar and tag. DAR&E dogs always have a home with us. Support a dog on its first steps by sponsoring the purchase of their collar and tag.
SPONSORS

All sponsorship donations are tax deductible and will be used to care for and for medical treatment for dogs in DAR&E's care. You can sponsor multiple dogs.